Maxim Kosinov has passed his trial to become deputy first concertmaster of the Stuttgart orchestra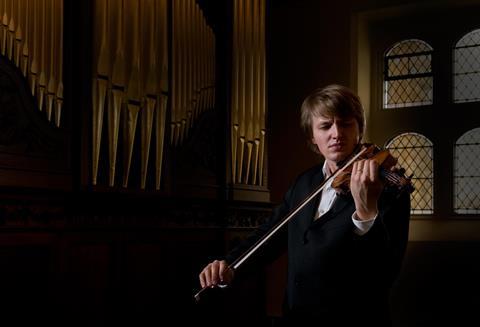 Read more news articles here
Following a year-long trial period, violinist Maxim Kosinov has been named as the new deputy first concertmaster of the SWR Symphony Orchestra in Stuttgart.
'Welcome as a permanent member of our orchestra,' the ensemble said on social media. 'We wish you all the best and look forward to the many next projects with you!'
After graduating from the Specialist Music School in his hometown of St. Petersburg in 2001, Kosinov went on to study with Uwe Martin Haiberg at the University of Arts in Berlin, where he obtained a diploma in 2009. His teachers also included Vladimir Ovtcharek in Saint Petersburg, Marie Leonhard (baroque violin) in Amsterdam and Reinhard Goebel.
As a freelance concertmaster, Kosinov has appeared with the Lucerne Symphony Orchestra, the WDR-Symphony Orchestra Cologne, the Symfonieorkest Vlaanderen, La Monnaie Symphony Orchestra Brussels, the Hamburg Symphony Orchestra, the Duisburg Philharmonic Orchestra and the Munich Radio Orchestra. He has also been the concertmaster of the La Madrileña Period Instrument Orchestra in Madrid.
As a soloist he has performed at Philharmonic Hall in St. Petersburg, Laeiszhalle Hamburg and Seoul Arts Centre. He has performed with orchestras including the Munich Radio Orchestra, Kammerakademie Potsdam, Sofia Philharmonic, the Opole Philharmonic, the Hamburg Symphony Orchestra and the OSUANL orchestra in Monterrey, Mexico.
Teodor Currentzis has been at the helm of the SWR Symphony Orchestra since the 2018/19 season. On 30 September 2022, the orchestra announced that François-Xavier Roth will take over Currentzis as chief conductor and artistic director from the 2025/26 season.