They will compete for the six places available in the final for a chance of winning a first prize worth CA$100,000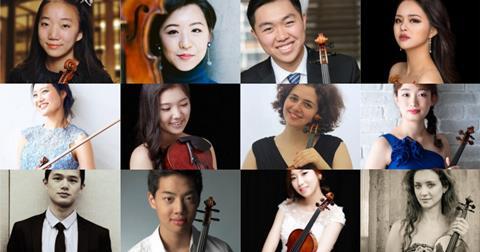 The Concours musical international de Montréal, which is this year devoted to the violin, concluded its first round yesterday at the Montreal Museum of Fine Arts' Bourgie Hall.
It has announced twelve semi-finalists who will proceed to the next stage of the competition which takes place on 1 and 2 June. They will be vying for the six places in the finals on 4 and 5 June at the Maison symphonique with the Orchestre symphonique de Montréal.
They are:
Elli Choi (USA)
Leonard Fu (Germany)
Gyehee Kim (South Korea)
Youjin Lee (South Korea)
Anna Lee (USA/South Korea)
Lun Li (China)
Christine Lim (USA/Korea)
Michiru Matsuyama (Japan)
Fumika Mohri (Japan/Germany)
Johanna Pichlmair (Austria)
Hannah Tarley (USA)
Hao Zhou (USA)
The first prize laureate wins CA$30,000 cash, $50,000 career development grant, a new instrument worth $20,000, plus a residency at the Banff Centre. Second and third prize win CA$15,000 and $10,000 respectively, and there are a number of special awards.
A number of the candidates have placed highly in previous competitions, including Youjin Lee, Anna Lee, and Elli Choi.
The jury comprises Pierre Amoyal, Michael Haefliger, Kim Kashkashian, Boris Kuschnir, Cho-Liang Lin, Mihaela Martin, Barry Shiffman, Dmitry Sitkovetsky, and Pavel Vernikov. Zarin Mehta, former director of the Montreal Symphony Orchestra and New York Philharmonic, is jury president.