The central London church and venue will be the new base for the ensembles, with founder and artistic director of the Monteverdi ensembles Sir John Eliot Gardiner to conduct three concerts in first season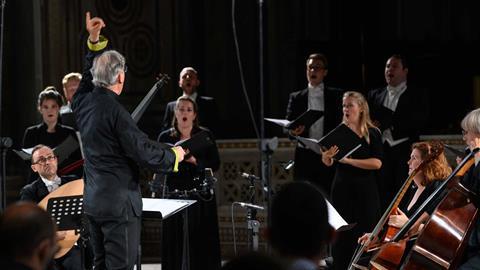 ­­­­­­St Martin-in-the-Fields has announced that it will be the London home of the Monteverdi Choir & Orchestras (MCO). This marks the first time that the three ensembles - the Monteverdi Choir, English Baroque Soloists and Orchestre Révolutionnaire et Romantique - will have a base in the UK capital.
Members of the Monteverdi Apprentices Programme will be given performance opportunities during the season and the organisation will use the building's facilities to host a range of events and workshops.
Chris Denton, Chief Executive, St Martin-in-the-Fields, commented, 'St Martin-in-the-Fields is the ideal venue for historically-inspired performance and choral music, and is, therefore, delighted to welcome the Monteverdi Choir & Orchestras, a truly great body of musicians lead by their visionary founder John Eliot Gardiner. We look forward to many great performances to come, and to welcoming their Apprentices.'
Dr Rosa Solinas, general director and chief executive of MCO commented, 'We are thankful to have been invited by St Martin-in-the-Fields to play a major role in their ambitious new venture… after many years of searching, we are thrilled to have a beautiful home in London from which to engage with our beloved audiences and supporters, and make meaningful and lasting connections with the next generation of musicians.'
Read: Gut reaction: the worst job in history?
Read: Baroque cello playing: Going for baroque
Read: Historically informed performance: Baroque revolution