Event taking place in Geneva in April 2018 receives 317 applications across junior and senior categories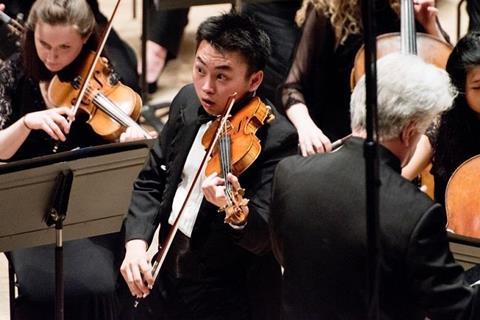 The Menuhin Competition, which for its 2018 edition will be taking place in Geneva, has received a record number of applications according to an announcement released today. Founded by Yehudi Menuhin in 1983, the competition's Junior Division is open to violinists aged between 11 and 15, while its Senior Division is for ages 16 to 22.
The pre-selection process, which closed on 31 October, received 317 applications for the 44 positions available across junior and senior categories, which represents a 6% increase on 2016.
The competition reports that 51 nationalities are represented in the applications, with US applications leading at 32% of juniors and 23% of seniors. Chinese and Japanese are equal among the senior applications (13% each), with the numbers of Japanese applicants (13%) just ahead of Chinese (11%) among the Juniors.
The announcement noted that 'Nearly twice as many girls have applied than boys in both the Junior and Senior categories (68% of Juniors identify as female and 61% of Seniors), a trend that has been increasing in recent decades and which is, this year, more marked in the Juniors than ever, albeit less marked in the Seniors than was the case for the Menuhin Competition 2016 where 66% of the Senior applicants identified as female.'
The biennial competition for young violinists is unusual for moving to different locations each edition: the previous event, 2016, in the 100th anniversary year of founder Yehudi Menuhin's birth, took place in London. Its winners Ziyu He (Senior Division, pictured) and Yesong Sophie Lee (Junior Division).
Previous prize winners include Tasmin Little, Nikolaj Znaider, Ilya Gingolts, Julia Fischer, Ray Chen, Chad Hoopes, Stephen Waarts and Callum Smart.
The Menuhin Competition 2018 takes place in Geneva from 12 to 22 April