The planned £288 million building includes superb spaces for rehearsal, performance and education but many still believe London cannot afford it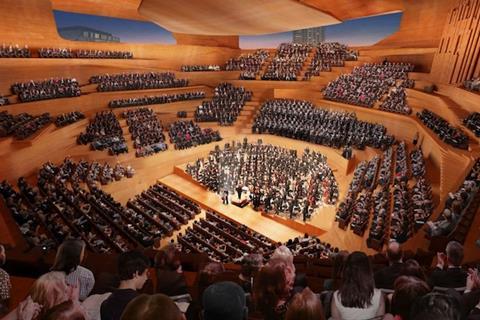 The London Symphony Orchestra issued new designs for its new music venue yesterday. According to the designs, which have been developed by architects Diller Scofidio + Renfro, the Centre for Music will include a world-class concert hall and superb spaces for rehearsal, performance and education. It is being planned for the London Wall site after the Museum of London moves to a new Stanton Williams and Asif Khan-designed home in West Smithfield.

The aim is to create a new open, traffic-free civic space that draws the public from all directions and which hosts a mix of outdoor programmes and social spaces. This approach ensures the Centre would be a beehive of activity both day and night.
The light-filled, multi-level foyer would be accessible from street level and via the Barbican's highwalk network. Meanwhile the concert hall is designed as an intimate and inclusive space for up to 2,000, with superb acoustics, at the top of which sits The Coda, a flexible, intimate contemporary performance and events space with views to St. Paul's and the London skyline.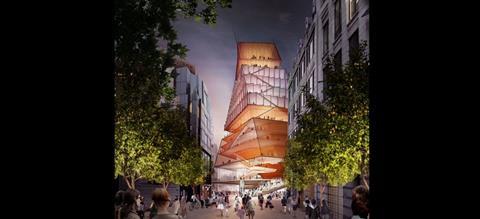 It would be the home of the London Symphony Orchestra as the principal performing organisation; and the base for the Guildhall School of Music & Drama's new Institute for Social Impact.
Alongside making a site available in principle for the Centre for Music, the City of London Corporation has provided £2.5 million in funding for the Barbican, London Symphony Orchestra and Guildhall School of Music & Drama to complete a detailed business case for the project, which was submitted in December 2018.

This has been followed by a further £2.49 million to deliver the next stage of the project's development throughout 2019.
Talking to the Architects' Journal, Diller Scofidio + Renfro founder Liz Diller has said her planned £288 million London concert hall will address some of the connectivity 'flaws' of the Barbican Estate and improve its 'body language'.
However, the Goverment has said it won't pay for a concert hall in London and there are many who believe Brexit means that this city can no longer afford it.
Speaking at the briefing, Simon Rattle, music director at the LSO, said: 'We believe in music. We believe in London. We believe in the power of music to transform people's lives. And more importantly than anything else, we believe it is for everybody.'