The 14-year-old violinist will begin her residency with a performance of the Tchaikovsky Violin Concerto on 9 October, as well as enjoying mentorship opportunities from members of the orchestra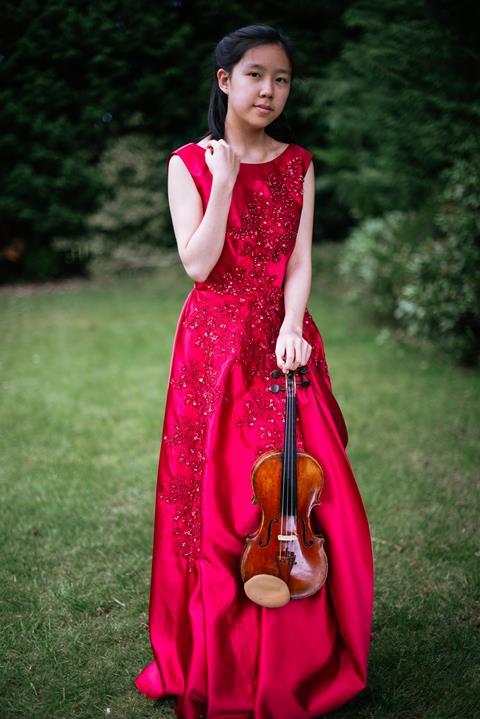 14-year-old violinist Leia Zhu has been named as the London Mozart Players' new artist in residence. She will kick off her series of solo engagements with the orchestra on 9 October, performing the Tchaikovsky Violin Concerto at Fairfield Halls in Croydon. The performance will be broadcast on BBC Radio 3 on 12 October.
Zhu's engagements will also include chamber concerts and educational and outreach projects with young players and school music departments, with the orchestra stating they will work closely with Zhu, her family and her teacher Itzhak Rashkovsky to nurture her talent. Zhu will also enjoy tailored mentorship from the LMP's leaders Ruth Rogers and Simon Blendis.
Zhu began playing the violin at the age of four, already enjoying an international solo career before the pandemic, having performed with Tel Aviv Soloists Ensemble, Festival Strings Lucerne, National Orchestra of Belgium conducted by Maxim Vengerov, and Russian State Symphony Orchestra - all before reaching her teens. In August 2021, she performed as soloist with the London Symphony Orchestra under the baton of Sir Simon Rattle at the BMW Classics concert in Trafalgar Square.
Read: Violin prodigy Leia Zhu to perform at free BMW Classics concert in Trafalgar Square
Read: When young violinist Leia Zhu met the great Ida Haendel
Read: 12-year-old violinist Leia Zhu plays Kodály with cellist Amit Peled