Among the target audience are those living in care homes, those living with dementia or at home with carers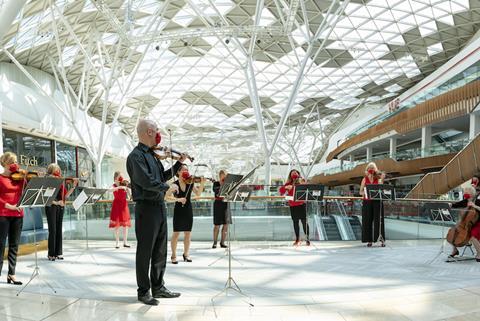 In response to the Covid-19 pandemic, the London Mozart Players is launching 'LMP Reach', a series of online recitals for vulnerable communities. These recitals have been filmed and specifically curated to entertain those living in care homes or at home with carers, those living with dementia, or people in vulnerable groups who may not otherwise have access to community concerts and events.
Each 30-minute recital will be presented on Vimeo on a fortnightly basis, and will feature two members from the LMP (with different players and instruments for each concert), performing songs from the shows, wartime favourites, and popular classical music by composers ranging from Bach to Bernstein.
The recitals are free to access by password-restricted link. However, care homes who use this service to entertain their residents (and concerts can be accessed on demand as many times as required) are being asked to consider a donation of £10-20 per concert, in order to support the LMP: the orchestra has not had a ticketed concert since 13 March, although it has topped 1 million views with its two lockdown series 'At Home with LMP' and 'LMP Live!'.
Tegan Eldridge, LMP's Outreach and Development Manager commented: 'We are thrilled to be able to take music into vulnerable communities in this way, particularly at such a challenging time. Our experience, and wider research, shows that musical activity can improve care home residents' quality of life, particularly those suffering from dementia. It is also a great boost for staff and carers, and we are delighted to help inspire positivity in this way. We know that groups at risk from Covid-19 are missing their regular live entertainment and we hope LMP Reach will help us stay connected to our vulnerable audiences until we can return to live music-making.'
Read: London Mozart Players to resume live performances
Read: London Mozart Players launch 'At Home with LMP' web page
The first of the LMP Reach performances, filmed at LMP's home at the church of St John the Evangelist in Upper Norwood under Covid-19 social distancing restrictions, was released on Wednesday 1st July, and there are now four recitals available online.
Concert 1: Michael Posner (viola) and Julia Desbruslais (cello)
Mickey and Julia offer classical works including Saint-Saëns' 'The Swan' and music by Mozart and Dvorak, alongside popular repertoire including 'America' from the musical West Side Story and songs including 'Smoke Gets in your Eyes' and 'Maybe it's because I'm a Londoner'.
Concert 2: Ruth Rogers (Violin) and Antonia Kesel (violin)
Ruth (LMP's leader) and Antonia perform an eclectic programme, including works by Elgar, Prokofiev and Gershwin, and arrangements (by Igudesman and Joo) of Mozart's Figaro and Rondo Alla Turca.
Concert 3: Martin Smith (violin) and Sarah Butcher (cello)
Martin and Sarah's recital includes classical works by Elgar (Salut D'Amour) and Strauss (Pizzicato Polka) alongside Vera Lynn's wartime hit '(There'll Be Bluebirds Over) The White Cliffs of Dover' and 'Hello Dolly!' – made famous by Louis Armstrong. Plus one or two surprises.
Concert 4: Nicoline Kraamwinkel (violin) and Sophie Renshaw (viola)
This varied programme from Nicoline and Sophie encompasses selections from musicals, including 'You'll Never Walk Alone' from Carousel and 'Oh! What a Beautiful Mornin'' from Oklahoma, jazz standards such as 'Lullaby of Birdland', music from South America and more traditional folk music from around the British Isles.
LMP Reach: https://www.londonmozartplayers.com/lmpreach/
To watch a trailer for LMP Reach, see below: