'LMP Live!' – a series of three socially distanced concerts in summer 2020 – will be streamed online for free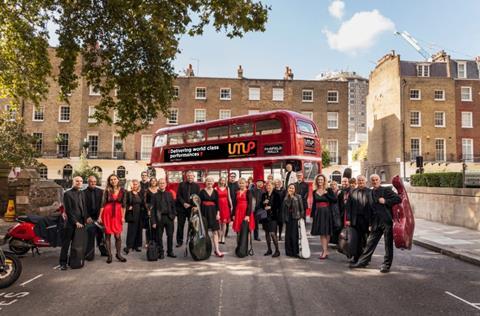 The musicians in the London Mozart Players are to return to live music making for the first time since Friday 13 March with 'LMP Live!' – a series of three concerts in unusual locations over the summer months.
The performances will take place on 15 June, 4 July and 22 July under social distancing rules, without a live audience, with each concert filmed as live for broadcast via Facebook and YouTube Premieres in partnership with Classic FM.
The three concerts will take place in Westfield London, Shepherd's Bush – to celebrate the first day of trading (15 June); St Giles Cripplegate – to observe the re-opening of churches to congregations (4 July); and Mansfield College, Oxford – to mark the last official day of home-schooling (22 July).
Joining the LMP will be violin soloists Tasmin Little who, having postponed her retirement from the concert platform due to the pandemic, will perform Vaughan Williams's The Lark Ascending at St Giles Cripplegate, and Jennifer Pike, who will perform Vivaldi's The Four Seasons at Mansfield College.
In March, the LMP launched 'At Home with London Mozart Players', a dedicated web page offering daily live and pre-recorded broadcasts and video blogs from LMP soloists, musicians and associate artists.
Read: London Mozart Players launch 'At Home with LMP' web page
Read: Simon Blendis appointed joint leader of London Mozart Players
Read: A Celebration of Aldeburgh Festivals runs from 12 June
LMP Executive Director Julia Desbruslais said: 'We have all been through a life-changing experience, with sadness and anxiety on all sides. Our very reason for being musicians is to perform to an audience, and that has been taken away, so these concerts are like a ray of sunshine after a long winter, and represent LMP's determination to come out on the other side and find a way back to live audiences so we can share our love of music-making together as an orchestra.'
Tasmin Little commented: 'Live music has been on hold for months, and these concerts will hopefully open the door to a new way of making music. It will be a real thrill to perform with the London Mozart Players again, an orchestra with whom I have had a long and very happy collaboration. I believe that performance is best when it is shared. After so much sadness, we hope to bring a little joy back into peoples' lives.'
A full schedule of 'LMP Live' is available at http://londonmozartplayers.com/lmplive/