The remainder of the year brings a programme of 63 public concerts, as well as 50 digital events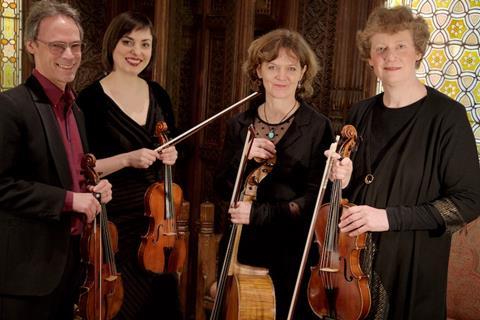 Following a pilot concert with a live audience in July, St John's Smith Square has announced that it will be welcoming audiences back for live performances this Autumn.
Between now and the end of 2020 a programme of 63 public concerts is planned. There will also be 50 digital events as part of the St John's DIGITAL EXCHANGE programme, some of which are hybrid versions of concerts featured in the live programme and some of which are created specifically for a digital audience.
The October programme, consisting of 21 public concerts and 17 digital events, includes a range of orchestral and chamber music along with solo recitals. Among the highlights is a concert of French repertoire featuring baritone Roderick Williams, and two weekends of music from The Revolutionary Drawing Room, who will be concluding their three-year cycle of the Beethoven string quartets. There is also a concert of Pucell Odes from The English Concert and an exclusive online performance of Messiaen's 'Harawi' by soprano Lotte Betts-Dean and SJSS Young Artist, Joseph Havlat (piano).
Elsewhere, the The Gesualdo Six (previous SJSS Young Artists) give two performances with the trumpeter Matilda Lloyd including one where audiences are invited to simply 'pay what they can afford'. The Young Musician's Symphony Orchestra make a return with a programme of Wagner and Beethoven. The month comes to a close with two concerts by the Chineke! Chamber Ensemble, presenting music by Vaughan-Williams and Schubert alongside the Four American Spirituals of Samuel Coleridge-Taylor.
To see the full programme, click here.
Read: St John's Smith Square creates Artist Lab to support musicians during the coronavirus crisis
Read: London Symphony Chorus to launch musical tribute to health and care workers
Read: St John's Smith Square introduces free ticket scheme for NHS staff
The 35th Christmas Festival, running from 8 to 23 December, will include 22 public concerts, whilst the inaugural digital 'Christmas Festival London' will feature content from these live concerts alongside specially created material and will run from the 8 December through to 5 January 2021.
The programme for November and December (including the Christmas Festival) will be announced in full on 5 October.
All concerts will take place in accordance with COVID regulations, with full measures detailed on the venue's website.
Richard Heason, Director of St John's Smith Square said: 'Since we closed our doors at the end of the concert on 16th March we have been focussing our energy and efforts on finding a route back towards live music taking place in St John's Smith Square once again. We are delighted that we are able now to safely welcome audiences back, albeit in a measured and controlled way, and that we can share the joy of live music. We are immensely grateful to all those who have supported us so generously throughout the period of lockdown including individuals who made donations or gifted the value of tickets they were holding for events no longer able to happen, and Arts Council England who enabled the launch of our Digital Exchange programme with a grant from the Emergency Response Fund (crucial support, both financially and as a boost to our confidence at a very dark time). We also thank all the artists who have collaborated with such open generosity over recent weeks and months and who have committed themselves so fully to these re-opening plans. We look forward, now, to welcoming back our audiences, for whom we exist, whilst continuing to support those unable to join us yet through our Digital Exchange programme.'