The London concert venue's new bursary fund will allow musicians to develop creative ways to make live music during the current distancing restrictions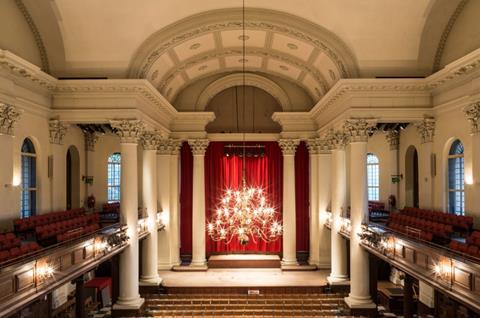 St John's Smith Square has announced the creation of Artist Lab in response to the challenge of empty concert halls during the Covid-19 crisis.
The London Baroque church and classical music venue is inviting supporters of the arts to become Artist Champions, providing paid opportunities for musicians who, in turn, will develop innovative ways to create live music under the current social distancing restrictions.
St John's Smith Square is asking supporters to commit to a regular donation which will be used to create a fund for artists. Musicians will receive a daily bursary from this fund to develop their projects and ideas within the church. Through the scheme, It is hoped musicians will be given the opportunity to experiment, to forge new partnerships and to 'create engaging experiences for audiences in months and years to come'.
Read: 6 tips for performing in an empty concert hall
Read: ISM updates UK live performance guidelines
Support from the fund will also cover the core operating cost of St John's Smith Square for each day that the Artist Lab operates.
'Being unable to run our normal concert activity has left our diary much emptier than usual,' said St John's Smith Square director Richard Heason. 'This is also the same for a great number of musicians, many of whom have "fallen through the cracks" and have not qualified for the Government's income support or job retention schemes. Artist Lab is our solution to this situation, bringing work and creative opportunities to artists and bringing live activity back to St John's.'
For further details visit: www.sjss.org.uk/become-artist-champion