Spending 43 years in the rank and file of the orchestra, Epstein collected a treasure trove of stories and photographs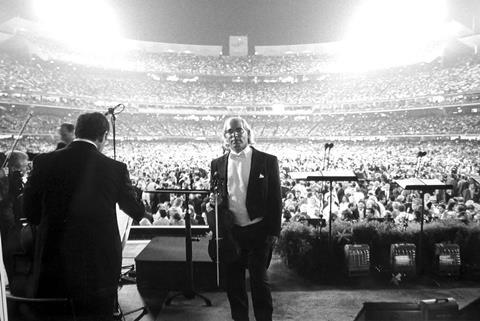 Epstein at Dodger Stadium for the Three Tenors' concert in 1994
Photo: Rebecca Dru @druified
Violist Jerry Epstein, who died yesterday aged 72, grew up in a musical family, his father a french horn player and his mother a violinist who went on to join the LA Philharmonic.
Epstein himself auditioned for Zubin Mehta, and was taken on by the orchestra as a rank and file viola. He played continuously through the tenures of Mehta, Carlo Maria Giulini, André Previn and Esa-Pekka Salonen, delaying his retirement to see in Gustavo Dudamel as well.
He eventually hung his viola up for good in May 2010, after 43 years in the orchestra, and later spoke frankly about the physical stress of being a full-time orchestral musician. The repetitive strain injuries which plagued him later in his career left him with permanent damage to his rotator cuff, and he suffered shoulder pain for the rest of his life.
'Still, when you're on stage doing a great Mahler symphony, you play through the pain, because it's compelling music. For the fast pages, it's like skipping rope, but the slow stuff kills. Thirty-five minutes of slow bows and no rest. I remember hyperventilating, saying to myself, "You'll get there, you'll get there. Hang in.",' he told the LA Times in 2013.
He was also a member of the Midnight String Quartet, a pioneering crossover classical outfit which put out a series of succesful easy listening albums in the 1960s and 70s.
His wife, photographer Rebecca Dru, posted on Epstein's Facebook page: 'Sadly, Jerry left us this afternoon peacefully in his sleep…finally free of all the pain he had been in for years. He was so full of love for all of you…he had this great ability to lift people…so full of humor…such a talented and gifted soul. He took a piece of my heart with him.'
Photo: Rebecca Dru @druified