Both winners receive $27,000 and important debut opportunities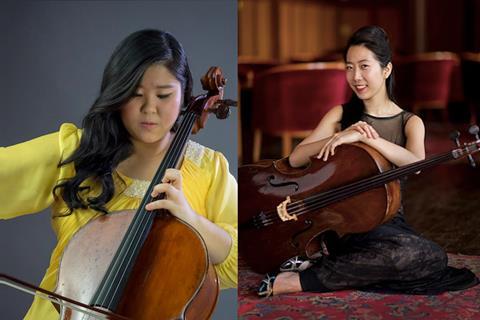 Following a final round in which three candidates performed a major cello concerto, the jury at the 2018 IsangYun International Cello Competition have decided to award two prizes: to 27-year-old Christine Jeong Hyoun Lee and 25-year-old Sang Eun Lee, both from South Korea. They will each receive KRW 30,000,000 (approximately USD $27,000) – plus a number of important debut opportunities.
3rd prize was awarded to 28-year-old Lev Sivkov from Russia. He receives KRW 10,000,000 (approximately USD $9,000).
Hyoun Lee, who studied at the Queen Elisabeth Music Chapelle, Curtis Institute of Music and the Juilliard School, is a former laureate of the Queen Elisabeth International Cello Competition, and former prize winner at the Dr Luis Sigall International Cello Competition, in Chile.
Eun Lee, who studied at the Korean National University and the Curtis Institute of Music, is a former prize winner at the Young Concert Artists International Auditions, and the Emmanuel Feuermann and Johansen International Cello Competitions.
Held annually in Tongyeong, South Korea, the competition is open to international cellists aged between 15 and 30.
This year's jury comprised Myungwha Chung (Chair), Kangho Lee, Jian Wang, Ko Iwasaki, Alexander Knyazev, Paul Katz, Valentin Erben, Luigi Piovano and Anssi Karttunen.