The Seattle-based musician died of Covid-19 complications after contracting the virus in August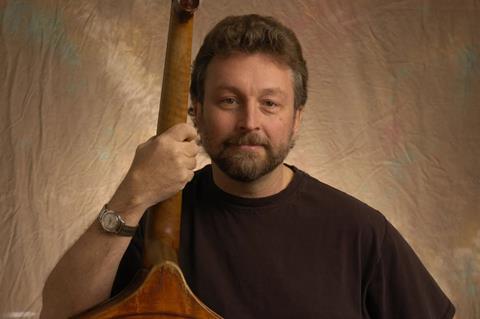 Read more news articles here
Bassist Chuck Deardorf, acclaimed as a pillar of the Northwest jazz scene for decades, died on 9 October, due to complications from Covid-19. Deardorf had contracted the virus in August 2022 and was vulnerable due to a kidney transplant in 2011.
Deardorf was born in 1954 and raised in Dayton, Ohio, moving westward to Washington state during high school. Originally a trombonist, Deardorf taught himself electric bass while studying at the Evergreen State College, expanding to acoustic as he embarked on his jazz career in Seattle during the late 70s.
As a teacher, Deardorf began teaching at Western Washington University in 1978, and joined the Cornish College of the Arts in the following year, eventually he serving as head of the jazz department from 1986 to 2000. Deardorf continued teaching at Cornish until the 2021-22 academic year. He also taught at the Centrum Jazz Workshop in Port Townsend.
His acoustic and electric performances were part of countless festivals, nightclubs & recording sessions, and tours of the United States, Canada, the Caribbean, and Australia with musicians such as saxophonists Bud Shank and Don Lanphere; pianists George Cables, Bill Mays, and Kenny Barron; and guitarists Larry Coryell and Bruce Forman.
Deardorf was a first-call bassist in Seattle and played with a long list of artists such as Chet Baker, Kenny Werner, Herb Ellis, Charlie Byrd, Eric Alexander, Phil Woods, Zoot Sims, Pete Christlieb, Joe LaBarbara, Jeff Hamilton, Victor Lewis and Joe Williams. He was elected into the Seattle Jazz Hall of Fame in 2010 and was most recently a member of the Susan Pascal Quartet and the Jovino Santos Neto Quinteto, and toured with the New York Voices.
As an accomplished studio musician, Deardorf's bass was heard on many movie soundtracks, dozens of albums and CD projects, and numerous Broadway touring shows. Deardorf also performed on numerous occasions with the Seattle Symphony Orchestra.
He is survived by his wife of 35 years and musical partner, the singer-songwirter Kelly Harland, as well as his son Will Deardorf; two sisters, Barbara Benson and Susan Markey; and brother, Ray Deardorf.