Leah Hollingsworth reports from the performance by the Banff Competition winners at The New School, New York, on 19 March 2023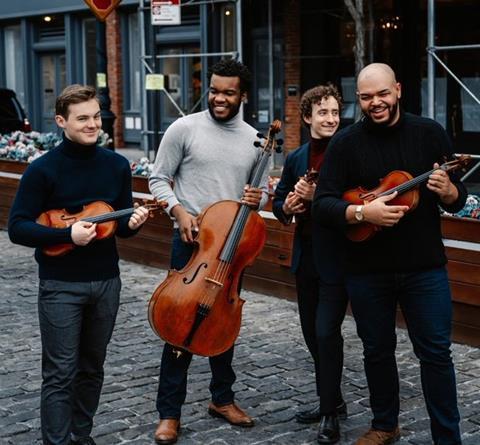 The New School presented recent Banff Competition winner the Isidore Quartet (making its New York debut), to a small but enthusiastic crowd. Cellist Joshua McClendon introduced the first piece, a quartet named The Disappearance of Lisa Gherardini (inspired by the daring theft of the Mona Lisa) by the Sri-Lankan born Canadian composer Dinuk Wijeratne, observing that the quartet would be 'bringing the music off the page'. The musicians spread out around the auditorium and began playing as they slowly walked towards their seats, an effective start to the concert; this was the work's US premiere, which, after an atmospheric beginning using extended techniques, was reminiscent of Debussy. The programme focused on the theatrical, mythical and mythological and Aida Shirazi's work Umbra (in which music is supposed to represent the darkest part of the shadow) came next, a New York premiere. The combination of trills, ponticello, glissandos and harmonics created an unsettling bed of sound, but the Isidore's total commitment to the piece, allied to its fine-tuned ensemble, made for a convincing performance. Closing the first half were the Contrapunctus nos.1–4 from Bach's Art of Fugue, each time with a beautiful presentation of the fugue subject supported by a sensitivity that allowed important lines to be heard.
Benjamin Britten's String Quartet no.2 concluded the concert; the Isidore's nuanced playing in the Allegro calmo allowed for long lines and space for the music to breathe. The rhythmic precision and clarity of the Vivace were technically impressive, while the Chacony featured terrific individual solos from each member, culminating in a powerful ending.
The commitment and artistry of this young quartet were wonderful to hear and I look forward to following its development as it matures.
LEAH HOLLINGSWORTH