CelloBello will host several events in support of Ukrainians, marking six months since the start of the Russian invasion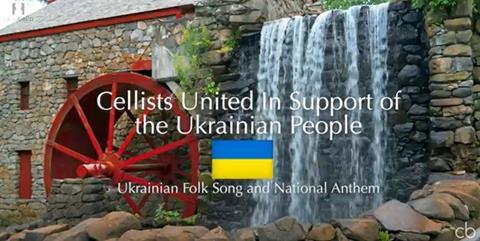 Wednesday 24 August marks not only six months since Russia invaded Ukraine in February 2022, but is also Ukrainian Independence Day. Online cello educational platform CelloBello has organised several events in a musical tribute supporting Ukraine and its musicians. These will include the premiere of an internationally-collaborative music video, a livestream conversation with Ukrainian musicians, and a live conversation with cellists who participated in the project.
'We, as Ukrainians not living in Ukraine always feel guilty about not being there. No matter how much we do, it never feels like enough,' said Ukrainian cellist Petro Sokach, who now lives in Norway. 'This was an opportunity to participate in something I know will touch Ukrainians, and hopefully many others.'
The new music video features renowned cellists Mike Block (USA), Paul Katz (USA), Zlatomir Fung (USA), Elena Korableva (Russia/USA), Sokach (Ukraine/Norway) and Glib Sasko (Ukraine) in a music video of a newly-commissioned arrangement by Block that contains a Ukrainian folk song and the State of Ukraine Anthem. The video is set to premiere on CelloBello's YouTube Channel at 12pm (EDT) on Wednesday 24 August.
CelloBello will host a livestream conversation with members of Kyiv Contemporary Music Days (KCMD), an organization that has pivoted its work since the start of the war to focus on cultural diplomacy, awareness of Ukrainian music, the plight of classical musicians in Ukraine throughout the war, and raising funds to support basic needs of classical musicians now living in Ukraine.
Following the release of the music video and conversation with leaders from KCMD and Ukrainian Classical Musicians Support Fund, CelloBello will host a conversation with cellists that participated in the music video. This event will be livestreamed at 2:30pm (EDT) on 24 August.
'CelloBello has become a global community of cellists, musicians and human beings and we prize the world's rich artistic heritage,' said Paul Katz, founder and artistic director of CelloBello. 'The artists in this video came together to advance the belief that among artists, there are no borders, and to condemn this act of aggression on Ukraine.'
CelloBello is a music education platform dedicated to leveling the playing field in classical music, nurturing and strengthening the individual cellist and a global cello community through free online instruction and advice from renowned cellists and teachers. More information can be found here.