Another batch of concert cancellations and postponements stretches to the middle of September as recovery from herniated disc takes longer than expected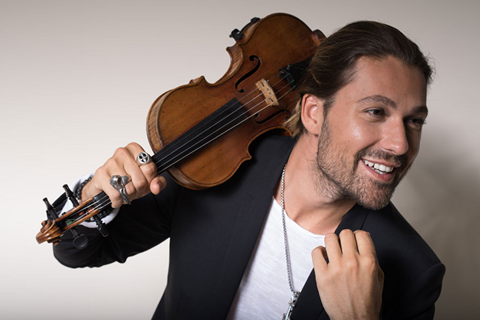 Violinist David Garrett has today released a statement cancelling another tranche of concerts due to a protracted recovery from a herniated disc. He first revealed he was suffering from the condition at the end of January and the latest cancellations will see him rack up nearly eight months away from the concert stage.
'Dear friends, I'm feeling better by now, but unfortunately it takes longer than expected until I'm completely healed,' he wrote on his website.
'The prognosis of my doctors is still very positive and they expect a full recovery, but unfortunately they still don't allow me to perform.
'At the moment, the most important thing is to take care of myself and give my body the necessary time to regenerate completely.'
The concerts affected include dates with the Munich Philharmonic on 14 July, the Rundfunk-Sinfonieorchester Berlin on 16 July and the Marijnsky-Orchestra under Valery Gergiev at the Gstaad Menuhin Festival on 25th August.
The Explosive Live! crossover classical tour dates in Sofia and Bucharest on 6,8 and 9 June have been postponed, with tickets remaining valid for 29, 13 and 14 September respectively.
'We continue to ask for your understanding and patience, that David can only perform when he is completely recovered,' his management said in a statement.