Among those recognised are Quinteto Respiro, which has won Gold in the Ensemble division, and the Sonos Piano Trio, which has won the Pablo Ziegler Award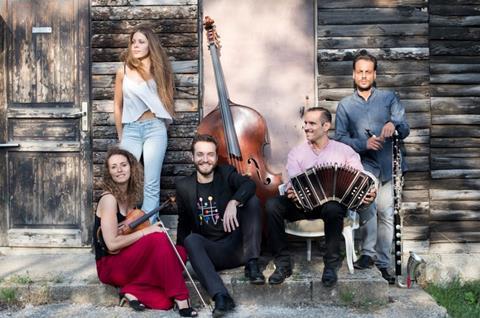 The winners of the inaugural Piazzolla Music Competition have been announced, with prizes for string players in its Ensemble and Solo divisions.
Launched by the Fundacion Astor Piazzolla and open to international musicians of any instrument or voice type over the age of 13, the competition marks the composer's 100th anniversary this year.
Winner of the Gold medal in the Ensemble division is Quinteto Respiro – Sebastien Innocenti (Bandonéon), Emilie Aridon-Kociolek (Piano), Sabrina Condello (Violin), Fabio LoCurto (Clarinet/Bass Clarinet), Dorian Marcel (Doublebass) – from Paris, which takes home USD $3,500, a recording and release deal with PARMA Recordings' Navona Records, as well as a concert tour throughout China arranged and funded by PARMA. Formed in 2009, the players met during their training at the conservatories of Lyon, Paris, Geneva and Zurich – and it was during a masterclass given by Argentine pianist and composer Gustavo Beytelmann 'that their passion for Argentine music was born'.
The Ensemble division Silver prize goes to the Dali String Quartet from Philadelphia, while the Bronze prize goes to Quinteto Emedea from Paris. The Pablo Ziegler Award goes to the Sonos Piano Trio – YaeRi Choi (Violin), Youna Choi (Cello), AhYoung Won (Piano) – from Seoul, which receives a masterclass with Grammy Award-winning pianist and composer Pablo Ziegler.
Read: Fundacioìn Astor Piazzolla announces inaugural Piazzolla Music Competition
Read: How should we interpret Tango music?
In the Solo division, the Gold prize goes to accordionist Anton Stachev from St. Petersburg, who receives USD $1,500, plus a PARMA recording and tour of China, while the Solo Special prize goes to violist Rose Wollmann from Evansville, Indiana.
'The entrants have helped reinforce the fact that Piazzolla and his music deserves to be included in the conversation of great art and artists of the 20th century,' said PARMA Recordings CEO Bob Lord. 'His music is simultaneously singular yet open to fresh interpretation, unique yet universal, elusive yet welcoming, and the submissions show all those complicated characteristics and much more.'
This year's entrants were judged by video submission to comply with Covid-19 restrictions. On the jury were pianist and compooser Pablo Ziegler, bandoneonist Heìctor del Curto, and Daniel Villaflor Piazzolla, grandson of Piazzolla and vice president of Fundacioìn Astor Piazzolla, among others.