Kathryn Eberle steps into chair which has remained vacant for over a year following death of Katia Popov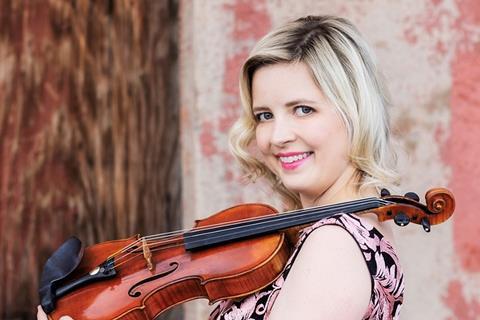 The Hollywood Bowl Orchestra has announced the appointment of Kathryn Eberle as its new concertmaster, effective immediately. The violinist, who will remain associate concertmaster of the Utah Symphony Orchestra, is also a seasoned soloist and chamber musician.
The orchestra auditioned for the position during the summer, to fill the chair vacated by the death of Katia Popov from cancer at the age of 50 in May 2018.
Principal Conductor Thomas Wilkins said: 'I am delighted to have Kathryn join the Hollywood Bowl Orchestra family. She is an exceptional artist and consummate professional, both of which will add significant value to our institution.'
Eberle said: 'I'm thrilled to announce that I've been appointed Concertmaster of the Hollywood Bowl Orchestra! I'm so looking forward to being back in Los Angeles each summer and working with Principal Conductor Thomas Wilkins, my fantastic new colleagues in the Orchestra and all the amazing guest artists that perform at this iconic venue.'
Eberle's position in Utah has seen her perform many times as a soloist, including for Bernstein's Serenade, her solo debut with the orchestra, and her upcoming performance of Edgar Meyer's Violin Concerto in the current season. She has also performed as a soloist with the Los Angeles Philharmonic, Nashville Symphony, Louisville Orchestra, National Academy Orchestra of Canada, and Bahia Symphony in Brazil, and served as guest concertmaster for the Kansas City, Omaha, and Richmond Symphonies.
She studied with Robert Lipsett at the Colburn School and the University of Southern California, and with Sylvia Rosenberg at the Juilliard. She plays on an 1870 J.B. Vuillaume.