The first two symphony concerts in Tokyo since the start of lockdown took place on Sunday and Monday, in accordance with social distancing and hygiene regulations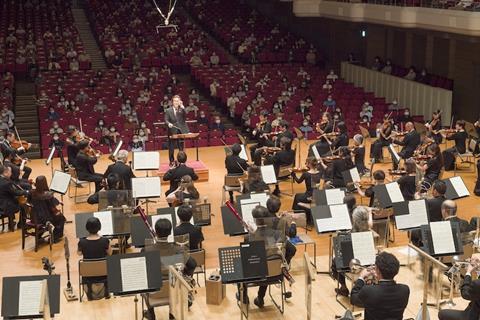 Tokyo has hosted its first symphony concerts since lockdown started, thanks to the easing of pandemic restrictions in response to declining cases of coronavirus.
The two subscription concerts, featuring the Tokyo Philharmonic Orchestra, took place on Sunday 21 and Monday 22 June at the Bunkamura Orchard Hall and Tokyo Opera City Concert Hall respectively, with a programme including the Overture to Rossini's The Barber of Seville and Dvořák's Symphony No. 9 'From the New World' under the baton of the orchestra's resident conductor Kazumasa Watanabe.
Read: National Symphony Orchestra, Taiwan, resumes concerts
In accordance with social distancing and hygiene regulations, face masks were mandatory for staff and audience members, who were also asked to wash their hands frequently, to take their temperature before coming to the event, and to follow 'proper cough etiquette'. Spectators were reassigned new seats, and, in place of standard tear-style tickets, were sent postcards in advance of the event, bearing their new seat numbers.
A third concert will take place tomorrow evening at Tokyo's Suntory Hall.
See the pictures above for photos from the first two concerts.