The orchestra will perform a series of three concerts for a live audience; these will also be live-streamed to digital audiences on YouTube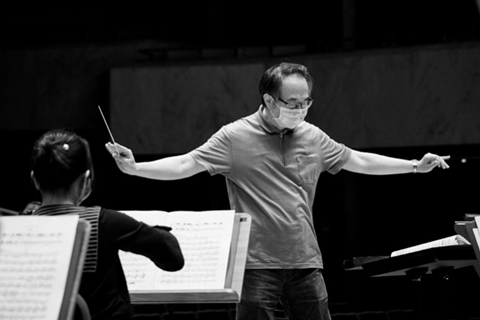 The National Symphony Orchestra, Taiwan [also known as the Taiwan Philharmonic] is to begin performing again in a series of three concerts on 24 May, 30 May and 12 June at Taiwan's National Theatre and Concert Hall.
The first of the three performances will take place in front of a live audience of up to 500 people, who will each have their temperature taken, be required to wear masks and to observe social distancing rules. The orchestra hopes that as many as 1,000 people may be able to attend future performances. All three concerts will also be live-streamed on YouTube and other platforms, and will be available to view afterwards, too.
The first live concert, beginning at 19:30 Taiwan time (12:30 CET/7:30 EDT), includes Dvořák's Serenade in D minor; Tchaikovsky's Serenade for Strings in C Major; and Tyzen Hsiao's Bang Chhun Hong ('Longing for the Spring Breeze'), composed in the 1930s.
Hsiao explained, 'Music expresses feelings; I love Formosa [Taiwan], so I actively express this emotion through music and spread it throughout the world.'
The second and the third concerts feature Mozart's Serenade no.10 'Gran Partita;' Dvořák's Serenade for Strings in E Major; and Beethoven's Fifth and Seventh Symphonies.
Shao-Chia Lü, the orchestra's music director, says, 'We particularly appreciate the cooperation of Taiwan Public Television and the National Theatre and Concert Hall for enabling us to deliver a worthy virtual performance experience. We are excited to continue our musical journey with music enthusiasts in Taipei and around the world.'
The first concert can be viewed here at 12:30pm (London time) on Sunday 24th May: https://www.youtube.com/watch?v=zBrCS6KELyM