The Engegård Quartet's third album of Mozart string quartets was all about timing – from allowing enough space between learning and recording the works, to faithfully honouring the composer's tempo markings – as Andrew Mellor discovers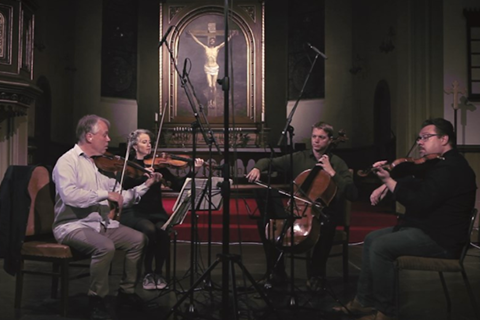 The following extract is from The Strad's March issue session report with the Engegård Quartet.To read in full, click here to subscribe and login. The March 2021 digital magazine and print edition are on sale now.
The Engegård Quartet, inaugurated on the Lofoten Islands in 2006 but based in Oslo, is on the eve of its 15th birthday. 'We have had some changes, but since Alex [Robson, second violin] and Jan Clemens [Carlsen, cello] came in, we've got closer to where we want to be than ever before,' says Jopling. 'It took a while to make space for each other and find our balance but now we really move together, rather than following. That balance is absolutely vital.'
Particularly in Mozart, to which the Engegård's tight blend and Ravelian lightness seems particularly well suited. Has the music itself nurtured the ensemble's sense of togetherness? 'It's certainly great for having to lose an idea of oneself and agree on something joint, something mutual,' says Jopling. 'A successful performance is completely dependent on everyone having a complete understanding of all the minute little details; the colours and phrasings that we've worked through.'
Yet detail is also a potential stumbling block in Mozart, with a good number of performances straying over the line that might separate the poetic from the pedantic. 'Yes that's right, and that's a good principle to keep in mind,' says Jopling. 'In the past we've got our knickers in an awful twist with regard to metronome marks, all the little expressions, and always wanting to bring out the motifs on which the music is built. These are things you just need to do but it's awful if you hear yourselves back and realise that it's all just way too obvious.'
One solution is time. The ensemble worked towards a concert performance of Mozart's K387, K464 and K458, the contents of the new recording, six months before the sessions; the interpretations were then left to marinate for half a year before they played them for the microphones. 'You want enough time to go through these processes, to respect the composer's wishes, to understand the use of dynamics and metronome marks and all the rest of it, and then enough time to forget all about it all so you can feel it in the moment,' says Jopling.
This article was published in the March 2021 Francesca Dego issue

The Italian violinist is granted the rare opportunity to record on Paganini's 'Il Cannone' Guarneri 'del Gesù'. Explore all the articles in this issue.Explore all the articles in this issue

More from this issue…