Violist of the Engegård Quartet Juliet Jopling shares how the indomitable spirit of Mozart's string quartet music has helped the ensemble through difficult times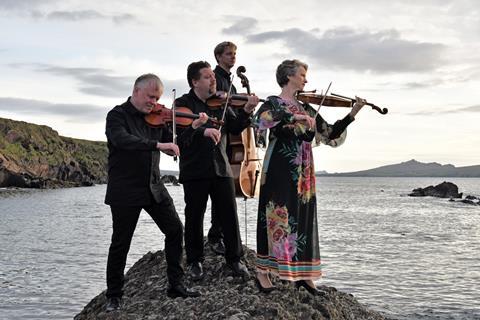 One of the beautiful things which we were lucky enough to experience, nestled like a treasure hunt egg within the chaos and cultural poverty of the last couple of years, was working on our new recording of Mozart string quartets, the third in our series of six recordings of Mozart's complete string quartets. This CD includes two of Mozart's finest and most widely played quartets, including the first of the 'Ten Celebrated Quartets', KV 387 in G major, nicknamed 'Spring', and the flamboyantly buoyant 'Hunt' quartet KV 458. It also includes the less well-known but perhaps even more fascinating A major quartet KV 464.
Working on the 'Spring' was really a much-needed breath of fresh air, doing its very best to lay ghosts of doubt and insecurity to rest, which became all too real during the pandemic. Uniting both players and listeners in the joy of Mozartian music making, the G major quartet should make you smile on even the baddest of all bad hair days. The first movement, Allegro vivace assai, draws you in immediately. Its rollercoaster ride of dynamics adds great colour to the interplay of voices and playful phrasing. The Menuetto carries the juxtaposition of contrasting dynamics to new levels, with every single consecutive crotchet in the opening phrase getting its own (contrasting) dynamic. The slow movements of both the 'Spring' and 'Hunt' quartets are among the most glorious in the quartet literature, with broadly spanned phrases and coloratura writing for both first violin and cello.
While I'm on slow movements, the Andante in KV 464 was a great find for us. What starts off as an innocent variation movement suddenly dives into the previous century with mysterious Rococo contrapuntal writing. The final chapter is certainly worth waiting for. Following a variation with a bassline borrowed from Lully or Rameau, Mozart manages to join all the movements' motives in an incredible conclusion to a very special movement.
The Engegård Quartet loves Norwegian folk music, and we've been very fortunate to have had several collaborations with leading Norwegian folk musicians. I wonder if this colours our interpretations of classical music? For example, the violin duet in the first movement of Haydn's opus 76 no. 3 feels very grounded in a rustic country dance mood, and I think the same can be said of first violinist Arvid's playing in the fabulously charming birdsong like melody which appears in Mozart's last movement, the Molto Allegro, in KV 387. We've certainly loved recording this rock-n-roll movement with its irresistible joyfulness.
The corona pandemic was not the only traumatic event to hit the Engegård Quartet in 2020. Our wonderful second violinist, Alex Robson, decided that he needed to prioritise other areas of his life, after nearly 10 special years together. The Engegård Quartet has been enormously helped, also over many years, by the unstinting support and work of Sarah C Aker. Sarah very tragically lost her battle with cancer early in 2021. Grief and loss take each of us in different ways and at different times and can be unpredictable. To put it in a nutshell, music and Mozart have been life savers.
This CD was the last major project we fulfilled with Alex. And the slow movement of Mozart's String Quartet KV 499 was the last thing we ever played to Sarah, while she was in hospital, over the internet. So we can truly say that this release comes out of poignant and fragile period for us. We dearly hope that it will bring joy to our listeners, as it has healed, helped, and inspired us.
We are looking forward to a new chapter in the Quartet, with a new second violinist, and a new team working with us. We can't spill the beans quite yet but are very inspired and grateful for the phenomenal musicmaking we've been enjoying this year. We hope to announce our new member before too long.
The Engegård Quartet will be performing at the 1-2-3 Festival 12-14 November. Devoted to works by Haydn, performances will be held at 1920s theatre Nynosken Hus, renowned for having one of the best chamber music acoustics in Oslo. More information here.
The Engegård Quartet's new album of Mozart String Quartets dedicated to Haydn vol.2 is out now on LAWO Classics
Watch The Engegård Quartet perform Molto Allegro from Mozart String Quartet no.14 in G major KV387:
Read: 'It's awful to hear yourselves back and realise that it's way too obvious' – Engegård Quartet