The residency takes effect on 31 August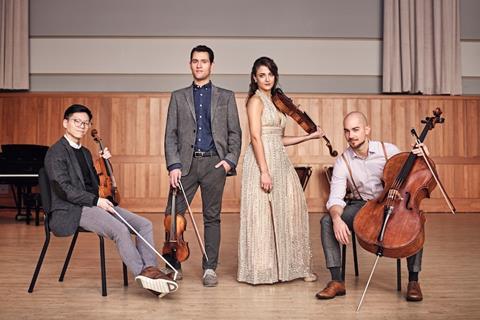 The Dover Quartet is to join the Curtis Institute of Music Faculty as the first Penelope P. Watkins Ensemble in Residence.
The residency, which takes effect on 31 August and is named after Penelope Watkins, a longtime member of the Curtis board of trustees, combines teaching at Curtis, with performing and engaging audiences, both in-person and through digital initiatives.
'It is, quite literally, a dream come true for us to join forces with Curtis,' noted the members of the Dover Quartet. 'The inspiration we felt during our formative years here can only be described as magical. The thought of once again being a part of that fabric, and sharing that inspiration with the next generation, fills us with the deepest gratitude and joy. We are immeasurably grateful to Ms. Watkins for making this new and exciting career model possible—and through this partnership, we are determined to share our love of music in new and wonderful ways.'
'It is such a privilege for me to be able to welcome the Dover Quartet to the faculty of the Curtis Institute of Music,' said Penelope Watkins. 'For the whole music community—faculty, performers, audiences, trustees, students and beyond—this appointment has the potential to change the way we think about classical music and musicians' careers.'
The Curtis has a tradition of working with leading American string quartets. Previous ensembles who have served at Curtis include the Curtis String Quartet and the Guarneri Quartet.
Read: Avery Fisher Career Grants awarded to violinists Chad Hoopes and Stephen Waarts, plus the Dover Quartet

Read: Dover Quartet wins first prize at Banff competition
The Dover Quartet itself has a long connection to the Curtis, having been formed there in 2008. Its members are all alumni of the school: Bryan A. Lee (Violin '11), Joel Link (Violin '11), Milena Pajaro-van de Stadt (Viola '10, '11), and Camden Shaw (Cello '10, '11). In 2013, the Dover Quartet became the inaugural members of Curtis's Nina von Maltzahn String Quartet Programme, a fellowship programme for extraordinary young string ensembles. In addition, the quartet's name pays tribute to Dover Beach, a work for baritone and string quartet composed by Curtis alumnus Samuel Barber (Composition '34) in 1931.
The Quartet shot to international fame after winning a sweep of prizes at the 2013 Banff Competition. Since then it has served as quartet in residence of the Kennedy Center, Bienen School of Music at Northwestern University, Chamber Music Northwest, Artosphere, the Amelia Island Chamber Music Festival, and the Peoples' Symphony in New York.
The Dover Quartet is the subject of a new documentary by Bruce Broder entitled Strings Attached, which premiered this summer. More information about the film is available at StringsAttachedMovie.com.