The yellow label has revealed plans for its campaign to celebrate the 250th anniversary of Beethoven's birth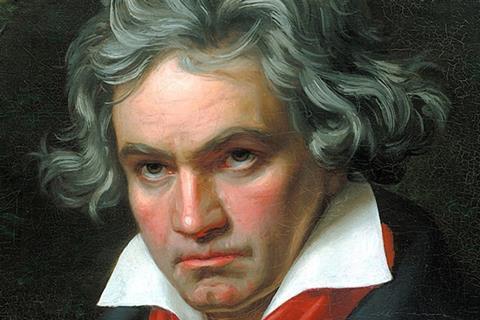 Deutsche Grammophon has unveiled its new Beethoven 2020 campaign at at the Beethoven-Haus Bonn, marking the start of a new partnership between the research centre and the record label. The centrepiece of the campaign is Beethoven – The New Complete Edition – a new box set and digital series featuring over 175 hours of music and 250 artists, among them the violinists Yehudi Menuhin, Anne-Sophie Mutter and incoming President of the Beethoven-Haus Bonn, Daniel Hope.
This new collection represents the most up-to-date and comprehensive anthology of Beethoven's music yet and includes a number of world premiere recordings. One of them showcases Daniel Hope performing nine fragments or movements, including the last musical thought Beethoven wrote before his death. These are available now as a standalone digital album entitled 'Rarities', with other recordings in the box set to be released digitally in the coming months.
Other initiatives include a new website (www.beethoven-playon.com) and a DG playlist of historical Beethoven recordings made newly available as part of The Shellac Project, DG's collaborative restoration project with Google Arts & Culture, through which digitised recordings are created from original matrices.
In addition, there will be a new year-long video series from international music critics introducing 25 iconic Beethoven albums. This will run alongside a series of live events – from Beethoven Yellow Lounge events worldwide to a programme with the Beethoven-Haus Bonn.
'Beethoven's world was turned upside down when he was still a young man,' observes Dr Clemens Trautmann, President of Deutsche Grammophon. 'He was only in his late twenties when his hearing – the sense most vital to a composer – began to fail. By his mid-forties he was almost totally deaf. And yet he went on to write many of his greatest works long after he could no longer hear them in performance.'
He continues: 'The 250thanniversary of his birth is the time to reflect on Beethoven's courage, a time to tell stories about his refusal to be silenced, a time to 'Play on, play against all odds'. We're delighted to work with our partners at the Beethoven-Haus Bonn and to be implementing a range of ambitious global digital initiatives that will open fresh perspectives on the composer's art. Beethoven will be at the heart of the Yellow Label's programme, in recordings, online and in performance, from now until January 2021.'
Watch the trailer for The New Complete Edition: