With cancellations and closures being announced daily, venues and artists are turning to the internet to keep the music playing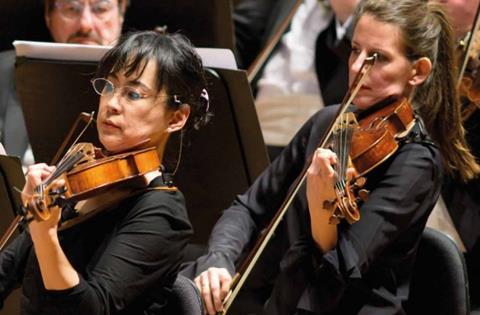 As cities impose restrictions on large gatherings in response to the coronavirus pandemic, concert venues and musicians are turning to the internet and live-streaming to ever-increasing online audiences via social media and their own websites.
Some concert halls are already set-up to provide this service, such as the Berlin Philharmonic's Digital Concert Hall, which broadcasts around 40 concerts each season and has a substantial archive. With the Philharmonie now closed, on Thursday the orchestra under conductor Simon Rattle performed Berio and Bartók before an empty concert hall. In a gesture of goodwill, the concert was broadcast free of charge, and anyone signing up before 31 March can access The Digital Concert Hall free for 30 days.
Here is a selection of concert venues and artists offering video streams:
Academy of Ancient Music are broadcasting 'Streaming Sundays' - full-length HD concerts - to its YouTube Channel from 3pm GMT each Sunday, for the duration of the coronavirus pandemic. Concerts are free to watch, and the hope is that they will provide 'a moment of beauty and relief to anyone who watches them'.
Melbourne Symphony Orchestra is streaming scheduled concerts via its YouTube channel, and asks that viewers mitigate the financial impact on ticket sales revenue by giving a donation or offering to donate the value of their ticket.
The Royal Liverpool Philharmonic offers live streamed concerts on the orchestra's Facebook page or via the live-stream page on its website.
The Chamber Music Society of Lincoln Center has a raft of livestreams, masterclasses, rebroadcasts and lectures on its Watch & Listen page.
The Seattle Symphony has announced free video broadcasts, rebroadcasts and live streams via its Facebook and YouTube channels. Details at seattlesymphony.org/live.
Wigmore Hall broadcasts free-to-view live streams via its website where viewers can also access past-streamed events, including live masterclasses.
The London Schools Symphony Orchestra (LSSO) will make films from its concert archive available online free of charge as part of a new digital concert series, LSSO ALIVE! The orchestra will upload full-length concerts to its Facebook page each Monday from 7.30pm during the current lockdown. How to Watch: https://www.facebook.com/londonschoolssymphonyorchestra/
Musicians are taking to social media to broadcast performances from their homes:
Pianist Igor Levit is performing daily 'house concerts' on Twitter and Instagram, and yesterday performed Beethoven's 'Appassionata' Piano Sonata watched by some 106.7K viewers from his studio in Berlin. Pianist Boris Giltburg performed his first live concert via Twitter earlier today. Later today, violinist Mikhail Pochekin will play 'experimental repertoire for violin solo' at 18:00 CET on Instagram and at 19:00 CET on Facebook.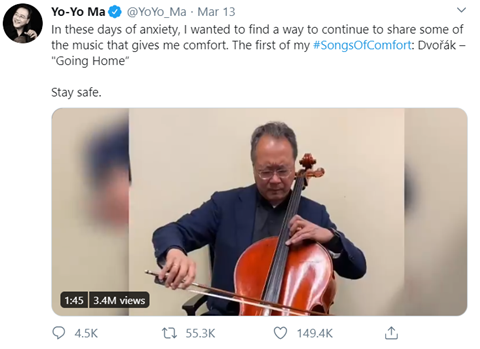 And Yo-Yo Ma shared a live performance of the 'Going Home' theme from Dvořák's 'New World' Symphony on Twitter and Facebook. He wrote: 'In these days of anxiety, I wanted to find a way to continue to share some of the music that gives me comfort. The first of my #SongsOfComfort: Dvořák – 'Going Home'.
Do you have something to add to this article? Contact us at thestrad@thestrad.com or through Twitter @TheStradMag or Facebook @thestrad.