18 young musicians have received a full scholarship to the racial barrier-dashing programme beginning this academic year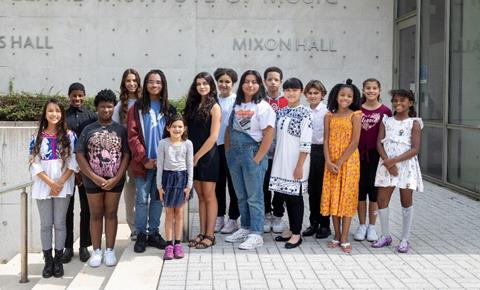 Read more news articles here
The Cleveland Institute of Music (CIM) has announced the 18 young musicians taking part in the 2022-23 Musical Pathway Fellowship (MPF) programme.
The children, all between the ages of 6 and 16, completed successful auditions to receive full tuition scholarships as well as memberships to the CIM's Youth Programme or its Academy and CIM's comprehensive new model for pre-college musical training.
The programme, that works to promote greater diversity in classical music by identifying and training talented young Black and Latinx musicians in the Greater Cleveland area, has relaunched for the new school year with its largest class size to date.
Jennifer Call, associate dean of preparatory and public programmes at CIM said: 'We realised that if we want to break down the walls keeping kids from experiencing classical music at a high level, we had to start earlier.
'We're committed to doing whatever it takes to see all our students thrive and be musically challenged,' Call continued. 'We won't let anything stand in the way of our students being the very best they can be.'
The Musical Pathway Fellows will also receive weekly private lessons with CIM faculty as well as ensemble experience, conservatory student and staff mentorship, and training in music theory and eurhythmics. In addition, CIM will provide material and logistical support to ensure the success of each MPF student.
'Probably the best thing about MPF is the opportunity to be part of a community – of students, parents and teachers,' newly appointed MPF faculty advisor, Rodrigo Lara Alonso said. 'The dedication required to succeed in music can make for an isolating experience, but with our Pathway Fellows, we're all in this together.'
The CIM 2022-23 Musical Pathway Fellows are:
Princess Anno-Firempong (violin)
Danelis Cedeño (guitar)
London Duncan (piano)
Nicholas Garrett (clarinet)
Brandon Hayes (composition)
Reine Hinton (double bass)
Erica Lopez (viola)
Nicholas Lustri (piano)
Victoria Lustri (piano)
Catalina Lustri (piano)
Luna Marquez-Potts (cello)
Jaden Mills (double bass)
Laurien Palmer (voice)
Travis Phillips (double bass)
Kiana Pierce (cello)
Arielle Simler (piano)
Mari Uchino-Garcia (voice and clarinet)
Maya Uchino-Garcia (cello)