The Dutch chamber music festival is taking place online this weekend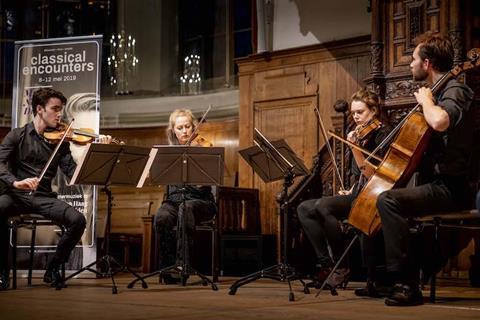 Classical Encounters, the international chamber music festival normally based in the region of The Hague and Leiden, Holland, goes online on Sunday, 17 May. Originally scheduled for 13 -17 May, it will now take place in one day from noon until 6pm, livestreamed on the festival website.
The programme, presented by the Dutch television presenter Dieuwertje Blok, will consist of concerts, brief introductions, a short lecture, interviews, and surprising musical intermezzos. Amongst the offerings is American pianist Kit Armstrong, performing Bach's Goldberg Variations in his local church in Northern France. There's also Dutch recorder player Erik Bosgraaf and cellist Ernst Reijseger, presenting a programme of Bach-inspired improvisation; a performance from the Rembrandt Frerichs Trio; as well as the Nexus String Quartet (Pieter van Loenen, Eva Stegeman, Hannah Strijbos, Sietse-Jan Weijenberg) playing Beethoven's String Quartet op.74 'Harp' and a new piece for string quartet – a world premiere – composed by Rembrandt Frerichs.
The Belgian violinist Sylvia Huang (finalist Queen Elisabeth Competition 2019) will travel to The Hague and play a solo sonata by Ysaÿe; Franco-Serbian violinist Gordan Nikolic will play from his living room in Antwerp; cellist Ursula Smith will play Sibelius from England; and, from his home in Rosmalen, Holland, percussionist Jeroen Geevers will play the theatrical piece Case History – for one percussionist with trunk.
The Dutch academic Leo Samama will provide short introductions and deliver a miniature lecture, while the Dutch jazz singer, drummer, actor and presenter Edwin Rutten will offer some musical solace with his hourly segment 'My musical medicine cabinet'.
Talent Support has been an important part of Classical Encounters since its founding in 2003. As part of that strand, there will be performances from eleven-year-old violist Adinda van Delft and the 11-year-old recorder player Christiaan Blom, in addition to a number of young singers from the Academy of Vocal Arts, led by their artistic director Daniëlle van Lieshout.
Although the festival is available to view free of charge, visitors can choose to buy a virtual festival ticket by way of making a donation.
The full programme is available at www.classicalencounters.nl, where audiences can also view the festival.