'Music from the Mountains', a three-day programme of filmed concerts, will take place in the absence of the usual festival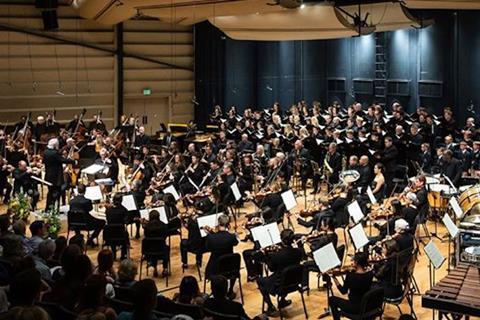 The Grand Teton Music Festival, based in Jackson Hole, Wyoming, USA, has cancelled this summer's festival, replacing it with an immersive filmed experience that will be streamed on August 21, 22, and 23 – what would have been the final days of the 2020 festival.
A smaller group of the festival's musicians will come together under the baton of Music Director Donald Runnicles to record and film Music from the Mountains, three concerts in Walk Festival Hall, provisionally including music by Beethoven, Mozart, Copland, and Ravel, as well as works from some of the female composers due to be performed at this year's festival.
Produced in media partnership with BBC Music Magazine and Wyoming PBS, the event will stream online on August 21, 22 and 23, and will appear on TV in the autumn. Audiences will be able to view the programmes on BBC Music Magazine's website and over three consecutive Fridays in the autumn on Wyoming PBS TV.
Music Director Donald Runnicles comments: 'The world is craving beauty and serenity in this moment of great uncertainty; and for us to make music this August for our audiences, in whatever configuration is safe and feasible, will be a joy for me and our wonderful GTMF musicians. May Music from the Mountains inspire us through the great repertoire of past and present, reaffirming the profound bond of humanity that prevails even through the hardest of times.'
There will also be a programme of related online content, including a listening guide and a series of short videos about instruments and repertoire, available to high schools across Wyoming.