The largest prize in classical music is awarded to artists and institutions who have contributed an important chapter to music history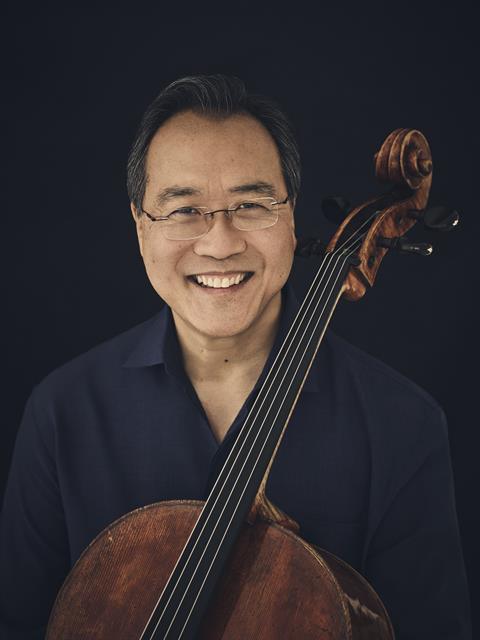 Birgit Nilsson Foundation President, Susanne Rydén, announced today that the 2022 Birgit Nilsson Prize will be awarded to cellist Yo-Yo Ma. The prize, consisting of US$1 million, will be presented to him by His Majesty King Carl XVI Gustaf at the Prize Ceremony on 18 October at the Stockholm Concert Hall.
Speaking from the Birgit Nilsson Museum in Sweden, Rydén said: 'In today's challenging and ever evolving world, when classical music is too easily marginalised, Yo-Yo Ma embodies everything that Birgit Nilsson wished for in a fellow-artist when she created this prize. Through exceptional musicianship, passion and dedication, Yo-Yo Ma's commitment to music helps us to imagine and build a stronger society and better future.
'His support and engagement continuously inspires new generations of musicians as they embark on their own musical lives. Yo-Yo Ma has contributed an important chapter to music history and we are delighted to welcome him to Sweden this autumn to receive the Birgit Nilsson Prize.'
Ma said, 'It is a great privilege to receive this honour, and to play a small part in the legacy of one of our great musical role models, an artist whose attention was directed outward, toward young people and music's role in creating a better world.'
Birgit Nilsson (1918-2005) was one of Sweden's most internationally recognised opera singers, making her debut in 1946 at the Swedish Opera House. 'I wish I could have met Birgit Nilsson in person,' commented Ma. 'Yet, she is alive for me through the recordings of her legendary voice and the legacy of her great generosity, her sense of humour, and a lifetime grounded in cultural values.'
The prize ceremony on 18 October will be a musical celebration accompanied by the Royal Stockholm Philharmonic Orchestra and Swedish Radio Choir. During his time in Sweden, Ma will also perform in concert with the Royal Stockholm Philharmonic and conductor Alan Gilbert on 16 October.
Ma is the first instrumentalist to receive the prize, which is awarded every three years, the first of which was in 2009 to Plácido Domingo. Other prize winners include Riccardo Muti, the Vienna Philharmonic and Swedish dramatic soprano, Nina Stemme.
The Birgit Nilsson Prize is the latest in the cellist's line of awards, including the Presidential Medal of Freedom (2010), Kennedy Center Honours (2011), the Polar Music Prize (2012), J. Paul Getty Medal Award (2016) and the Praemium Imperiale Award (2021). He has performed for nine American presidents, most recently on the occasion of President Biden's inauguration.
Ma plays three instruments, a 2003 instrument made by Moes & Moes, a 1733 Montagnana cello from Venice, and the 1712 'Davidov' Stradivari.