The French cellist has been added to the roster of Avanti Arts for worldwide management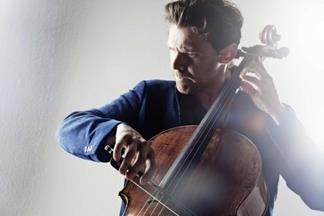 French cellist Christian-Pierre La Marca has been added to the roster of Avanti Arts for worldwide management. The announcement follows the release of his album Wonderful World earlier this year, a recording and touring project depicting an ode to nature.
With an interest in raising environmental awareness through music, he has also instigated Concert for the Planet, a solidarity event in 2019 launched to raise funds for environmental causes, in collaboration with the GoodPlanet Foundation and environmentalist and film-maker Yann Arthus-Bertrand.
Kate Adams, founder and managing director of Avanti Arts said, '"I have followed Christian-Pierre's career for a number of years and am excited to join forces with him at this very exciting stage. An artist with so much creativity and versatility, his innovative approach to repertoire and commitment to championing his instrument is very inspiring'
La Marca stated, 'I have had a strong connection with Kate for a long time. She is a passionate and dedicated manager who loves music and artists. It's a great pleasure to join Avanti to start a new adventure together'
La Marca studied in Paris with Jean-Marie Gamard and Philippe Muller, as well as with Frans Helmerson in Cologne and Steven Isserlis in London. He has performed internationally at venues such as the Philharmonie de Paris, Southbank Centre in London, Musikverein Vienna, Marinsky Theatre in St Petersburg and 92nd Street Y in New York. He is joint artistic director of the Forez Festival in France with his brother, the violist Adrien La Marca, and teaches at cello masterclasses for the Philippe Jaroussky Music Academy at La Seine Musicale in Paris.
Read: Session Report: Classical crusader - Christian-Pierra La Marca
Read: Cellist Christian-Pierre La Marca: being an active artist in society
Read: Christian-Pierre La Marca: Cello 360
Read: 'As a cellist, the old spruce tree I carry around and play every day inspires me to offset my own carbon footprint'