Professional development award headed by Alban Berg Quartet cellist Valentin Erben, is based on secret observation of elligible quartets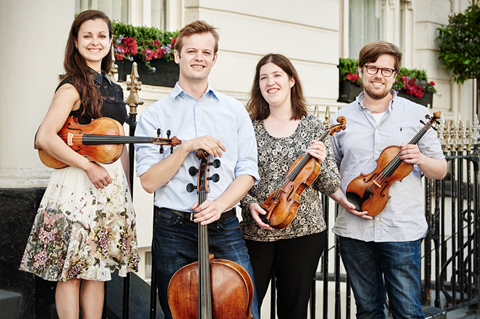 The Castalian String Quartet, based in London, has been announced as the winner of the first Merito String Quartet Award/Valentin Erben Prize which carries €20,000 professional development prize, along with a further €25,000 towards sound recordings and a commission.
The award will be officially presented at the Wiener Konzerthaus on 23 April 2018, where the quartet will perform works by Haydn and Schumann.
There was no application process or competition for the award, but instead a secret jury assembled a shortlist of five quartets which were then observed in at least two concerts during the course of a year, always without the musicians' knowledge.
According to the award announcement, 'The aspects that were evaluated included their professional approach, repertoire, programming, the artistic quality of the concerts, their musical profile, and also the imagination and innovation displayed by the musicians. Their artistic career to date and recordings, where applicable, were also evaluated.'
The award is an initiative of Wolfgang Habermayer, owner of Merito Financial Solutions, and Valentin Erben, founding cellist of the Alban Berg Quartet.
'The critical factor for us is how the young musicians behave in "everyday life" on the concert stage,' said Erben. 'We will now accompany and support the winning quartet professionally for four years to secure success on the international stage,' Habermayer added.
Of the Castalian Quartet, Erben commented: 'The human warmth and aura radiated by these four young people played a key role. They are never just putting on a show – the music is always close to their heart. You can feel their intense passion for playing in a quartet.'
As an optional addition to the award, Erben has offered the loan of four instruments by German luthier Stefan-Peter Greiner, the choice of Christian Tetzlaff among others.
The Castalian Quartet was also recently awarded a £20,000 fellowship from the Borletti-Buitoni Trust.