The Jamaican-born violinist, who broke down racial barriers to lead numerous UK orchestras, died in December 2021 aged 85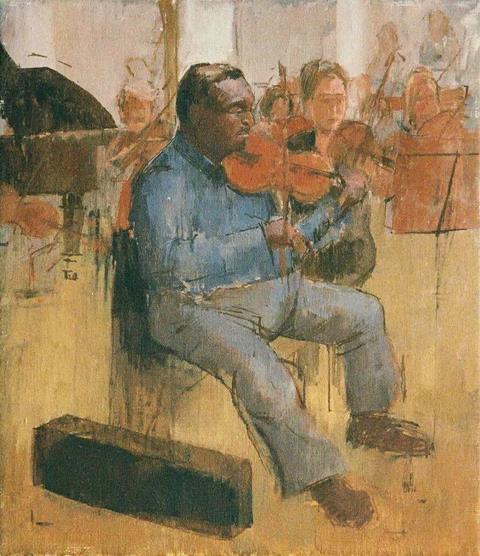 Violinist Edmund Reid has died aged 85. He spent his career often being one of the few black musicians in UK orchestras, breaking down racial barriers to excel in his profession.
Reid was born on 4 December 1936 in Kingston, Jamaica. He was introduced to the violin by his aunt, going on to give his first recital at the age of eight. At the age of 16, he won a scholarship to pursue studies at the Royal Academy of Music in London, taking lessons with Sascha Lasserson.
His first orchestral appointment was with the Bournemouth Symphony Orchestra, performing also with Sadler's Wells and the London Symphony Orchestra. He spent much of his career leading UK orchestras, including the Royal Philharmonic Orchestra, as well as the orchestras of Welsh National Opera, English National Opera and the Royal Opera House.
Reid was met with racial barriers on numerous occasions throughout his career. Recalling his audition for the Royal Opera House in 1964, The Telegraph reports that the conductor of the time, Sir Georg Solti, and a committee took two months deliberating his appointment, 'whether it was OK to employ a black man'. He won an industrial tribunal against English National Opera in 1987, when the company did not give him the title of co-leader, despite Reid performing the role on an acting basis for two years. He told The Observer, 'I've had a pretty rocky time.'
'When I started I told myself I wouldn't get in an orchestra if I played as well as the next person, so I decided I had to be 300 per cent better' Other barriers that became evident to him included orchestral tours, where he would encounter accommodation with signs saying, 'No Blacks'.
As well as an orchestral musician, Reid worked extensively as a recitalist and teacher. He performed at Wigmore Hall and Queen Elizabeth Hall with his wife since 1959, pianist Gretta Barrow, as well as performing for the Schubert Society of Great Britain in 1978, commemorating the 150th anniversary of the composer's death. He continued working after retirement, celebrating his Jamaican heritage with the Reggae Philharmonic Orchestra, as well as leading the orchestra of Opéra de Baugé in France and the Rehearsal Orchestra from 1994-2015.
Artistic director of the Rehearsal Orchestra, Levon Parikan said of Reid, 'His ease at the violin set the standard for the section, but his presence was never intimidating, and he was always ready with a kind word of encouragement when the going got tough. He brought a wealth of experience and knowledge to the leader's role, and even the shortest orchestral solo was graced with his natural, singing tone.
'A supportive leader, he had strong opinions about orchestral string playing, but was always ready to try the alternative, and if he disagreed with a conductor's ideas he would argue the toss with good humour. He usually won.'
Reid was awarded an MBE in 2020. He is survived by his wife Barrow and their four children.