The cellist will play on the 'De Kermadec-Bläss' Stradivari, facilitated by the Stradivari Foundation Habisreutinger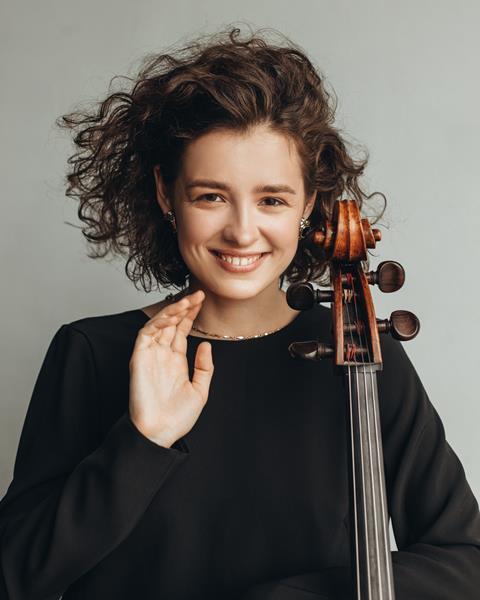 Cellist Anastasia Kobekina has received use of the 1698 'De Kermadec-Bläss' Stradivari, on loan from the Stradivari Foundation Habisreutinger. Writing on social media, Kobekina stated, 'From now on, this incredible Antonio Stradivari Cello from the year 1698 will accompany me on every musical adventure and I'm very grateful for this loan to the Stradivari Habisreutinger Foundation and Christoph Müller'
The cello was previously played by Christine Hu of Trio Oreade from 2017 to 2021, having been in the Stradivari Foundation's possession since 1964. The instrument features poplar wood back and ribs and a pear wood scroll, a departure from the usual maple wood.
Kobekina had previously played a 1743 Giovanni Battista Guadagnini on loan from TONALi for six years. A prizewinner at the 16th Tchaikovsky Competition, recipient of Prix Thierry Scherz and the Prix André Hoffmann, and BBC Radio 3 New Generation Artist, Kobekina has been enjoying a busy touring schedule, including recent performances at Wigmore Hall, Sage Gateshead and Kronberg Academy.
The Swiss Stradivari Foundation was founded in 1964 by Mr. Rolf Habisreutinger, a collector of Cremonese string instruments. The foundation currently owns seven Stradivari instruments, including the 1672 'Gustav Mahler' viola currently played by Antoine Tamestit and the 1717 'Bonamy Dobree-Suggia' cello currently played by Sol Gabetta.
Watch: Anastasia Kobekina and Nicolas Baldeyrou perform Popper's Dance of the Elves
Read: Concert review: Anastasia Kobekina (cello)
Read: Janine Jansen: Twelve chosen Stradivaris