Six young violinists remain in contention for the biggest prize pot available in any competition, following three-part semi-final round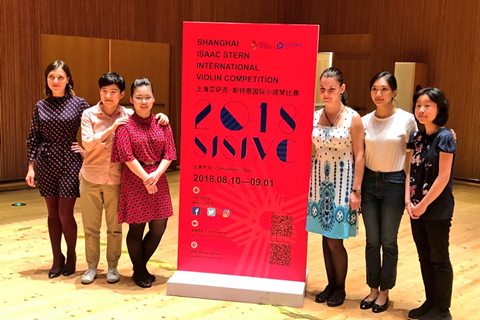 The Shanghai Isaac Stern International Violin Competition has announced the six finalists of its 2018 edition.
The three-part semi-final round, which took place from 18 to 24 August, incorporated string quartet, sonata with piano, a work by Kreisler, plus a Mozart concerto with the Shanghai Symphony Orchestra conducted by Zhang Jiemin.
The finalists are:
Nancy Zhou, United States
Yun Tang, China
Diana Tishchenko, Ukraine
Jia Yi Chen, China
Chang Yuan Ting, Canada
Olga Šroubková, Czech Republic
The final will see each contestant play a concerto of their choice with the Shanghai Symphony Orchestra conducted by Michael Stern.
In total 36 candidates were invited to the live rounds, which started on 10 August, chosen by the pre-selection jury from 174 applicants. The jury panel for the live rounds comprises David Stern, Vera Tsu Welling, Zakhar Bron, Martin Campbell-White, Glenn Dicterow, Augustin Dumay, Daniel Heifetz, Emmanuel Hondré, Sreten Krstic, Weigang Li, Siqing Lu, Dora Schwarzberg, Philip Setzer, Maxim Vengerov, and Lina Yu.
The biennial competition, in its second edition, is offering a $100,000 top prize, $50,000 second prize and $25,000 third prize, with the remaining three each taking $5,000. A further $10,000 prize is offered for the best performance of a Chinese work – this year Qigang Chen's La joie de la souffrance.
The first edition of the competition was won by Japanese violinist Mayu Kishima in 2016.