Jury including Maxim Vengerov announced for the $100k event taking place next year furing Stern's centennial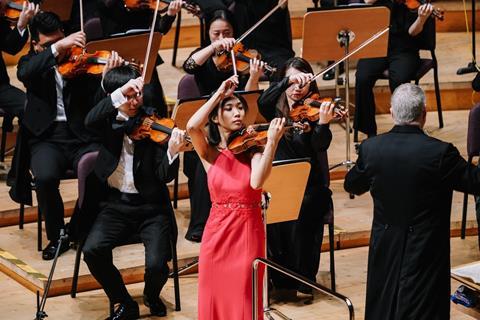 The third Shanghai Isaac Stern International Violin Competition (SISIVC) is now open for applications from violinists hoping to win its $100,000 top prize. It will take place in Shanghai from 4 to 25 August 2020, in Isaac Stern's centenary year.
The jury has also been announced. It is jointly chaired by conductor David Stern (son of Isaac) and violinist Vera Tsu Weiling, and also includes: violinist Maxim Vengerov, artist manager Martin Campbell-White, violinist and pedagogue Glenn Dicterow; director of the concerts department at the Philharmonie de Paris Emmanuel Hondré, violinist and founding member of the Shanghai Quartet Weigang Li; violinist Ning Feng; violinist, pedagogue, and founding member of the Emerson String Quartet Philip Setzer; violinists and pedagogues Hagai Shaham, Joel Smirnoff, and Kyoko Takezawa.
The absence of violin pedagogue Zakhar Bron, who was on the jury for the previous two competitions, is notable, as he has frequently drawn comment for sitting on juries for competitions in which his students take part.
The closing date for applications is 20 January 2020 with successful applicants invited to join the live rounds in Shanghai from 4 August 2020.
The competition will end with a gala concert celebrating 100 years since Isaac Stern's birth, featuring past winners and also focusing on the documentary From Mao to Mozart, which captured Stern's transformative effect on China's classical music scene.
Fedina Zhou, president of competition hosts the Shanghai Symphony Orchestra, noted that the entire event spans 22 days in total. 'From the press conference to the gala concert, the contestants will be faced with the longest-ever competition,' said Zhou.
'The length has been increased mainly due to the gala concert. It has been newly created to pay tribute to Isaac Stern who acted as an ambassador for Sino-American cultural exchange.'