Bota will join the conservatoire's string faculty from September 2022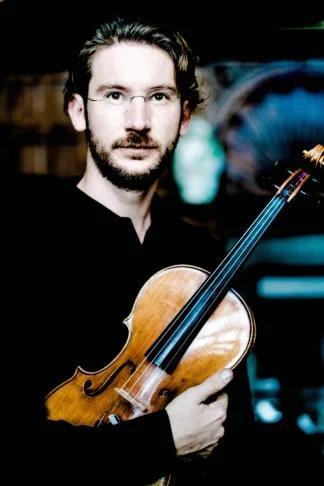 Romanian violist Alexandru-Mihai (Sascha) Bota will join London's Trinity Laban Conservatoire of Music and Dance as professor of viola. After relocating to London in 2017, Bota has enjoyed a host of new appointments, joining the Navarra String Quartet in 2018, Britten Sinfonia in 2021 and Oculi Ensemble this year.
Bota has performed as section principal with the Aurora Orchestra, London Mozart Players, Academy of Ancient Music, English Chamber Orchestra and the Philharmonia Orchestra. He also plays in gut-string ensembles in Europe such as Orchestre Révolutionnaire et Romantique, Le Poème Harmonique and the Academy for Ancient Music Berlin and is a founding member of the Schubert String Trio based in London.
Bota's appointment is one of five new appointments for the Trinity Laban string faculty. Raphael Wallfisch has been appointed international chair of cello and chamber music, and Malcolm Johnston, Milena Simovic and Stephen Upshaw will join Bota in the viola department.
'I am very excited to welcome Milena, Malcolm, Sascha and Stephen into our already illustrious viola department,' head of strings, Nic Pendlebury said. 'They are all fabulous musicians and teachers and bring with them a wealth of knowledge and a breadth of complementary skills to create one of the most dynamic choices of teachers in the country.'
This season has seen Bota perform as a soloist with the Musikverein Vienna, Concertgebouw Amsterdam, Printzregententheater in Munich and Konzerthaus Berlin along with Antoine Tamestit and the AKAMUS Berlin. He has also worked on new recordings of the chamber music of Edward Gregson on the Naxos label with the Navarra String Quartet.
Bota also regularly performs at jazz concerts and festivals alongside his father, bassist Johnny Bota, guitarist James Kitchman and pianist Bruno Heinen. He plays on a labelled M.Albani viola 1639 made in Bolzano, a baroque Pawlikovski instrument and on an NS design five-stringed electric viola with various pedals.