From Thomas Tallis, to Steven Reich, to Terry Riley and more: violist Nic Pendlebury illustrates the process and challenges of recording a variety of works for electric viola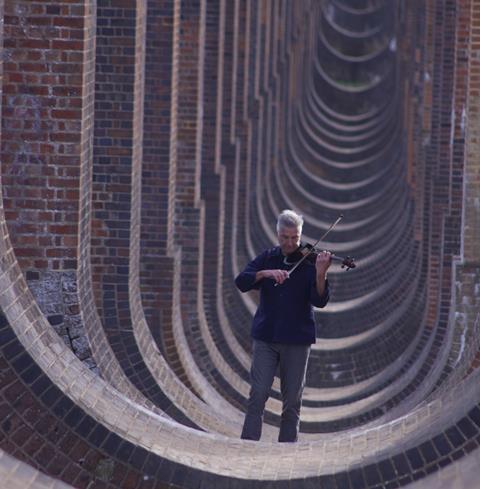 It's been more than five years ago now when I was asked to act as chair for the Yamaha Music Europe Foundation (YMEF). Over a coffee break, conversation somehow turned to the subject of electric instruments. For many years I was a member of the Smith Quartet and we often worked with electronics and computer processing. Yamaha make electric string instruments and I asked whether I could try out a viola, and a couple of weeks later found myself hooked up to my daughter's cast off electric guitar pedals, dabbling with looping and a whole host of effects that even I as a contemporary music artist was not really that familiar with.
The sounds that were coming out of the instrument were extraordinary and really excited me, so I started to wonder why the (solid body) electric viola was not being written for, in a classical sense. I bought more equipment (the proverbial kid in a toy shop) and as the range of sounds expanded, spoke to a couple of composer mates about writing something for me. Both jumped at the chance - Dominic Murcott, head of composition at Trinity Laban, who wrote Black Earth for electric viola and computer (a work that imagines what lies beneath the surface of Blackheath, an area of London reputedly used as a burial site for victims of the plague) and Colin Riley, who at the time was experimenting with hooking acoustic instruments up to reverberating objects. Colin's resulting piece Fallen Angel made use of the pure direct signal a solid bodied instrument generates and by connecting the signal to a variety of objects through transducers, we were able to stimulate a whole range of objects to vibrate and essentially accompany the electric viola.
My mini ensemble included crystal glasses, a tam tam, a bass drum and home-made percussion instruments. It was an extraordinary feeling being able to control all of this with the stroke of a bow. I'm hoping that both of these works will feature on my next album alongside Hollie Harding's immersive work Melting, Shifting, Liquid World for e.viola, audience worn bone conduction headphones and string ensemble. I am in the process of recording it at the moment.
Needless to say, I found all this immensely exciting and was infatuated with the idea of creating new repertoire for what is potentially a new classical instrument.
While all this was happening, I also had the idea to transcribe Steve Reich's Electric Counterpoint. It was a piece I had got to know really well when my group, the Smith Quartet, performed Different Trains with the Siobhan Davies Dance Company back in the nineties. I'd always thought the piece would work well for strings; I think it was something about the lyricism of Pat Matheny's electric guitar playing. I spoke to Steve Reich about the idea of transcribing it for electric viola and he gave me his blessing, curious I think as to what it might sound like. A year and many hours in the studio later I sent the finished recording to Steve who wrote back saying;
'The idea that electric counterpoint could be bowed had never really occurred to me. Never heard that before and it's really a worthwhile variation from all the other mixes of the piece.'
Steve's reaction was of course very encouraging and my sound designer John Marc Gowans and I joked about transcribing something else with even more parts and we came up with the crazy idea of transcribing Thomas Tallis' seminal work Spem in Alium. This incredible piece of music dominated my musical life for another year but was a complete joy to record and a huge learning curve in terms of intonation, voicing and balance.
Multitracking so many parts is a very different process to recording with a quartet, when your colleagues are in the room with you and can adjust to one another. When you are recording multiple voices by yourself the necessity to retune becomes a big part of the process, as often a harmonic structure that sounded perfectly in tune with say, seven voices suddenly becomes out of tune when the eighth voice is added. As you add each voice the overall intonation becomes more and more complicated, but eventually we found ourselves recording the final cadence.
We weren't really sure how we would ever perform the work until out of the blue I had an offer to perform up in Aberdeen at the Sound Festival. I mooted the idea that perhaps we could present it as an installation of forty loudspeakers and to my delight they said yes. It was quite a technical challenge as we wanted the audience to be able to interrogate each individual voice and be able to hear clearly what was coming out of each individual speaker as well as hearing a balanced version from the centre point. Locating forty speakers wasn't easy either, but we got there in the end and the installation received an amazing response.
Earlier, I spoke about dabbling with looping. This became an essential part of the performance when I came across Terry Riley's 1965 work Dorian Reeds which was originally written for soprano sax and tape delay. By this point I had decided that my first album would all be about 'multiple' violas and I wanted to find a way of being multiple laterally rather than horizontally, and Dorian Reeds fitted the bill perfectly. When the piece was first performed the delay was created by tape machines, but we wanted to create a digital delay which, although based on the original settings chosen by Terry Riley, employed additional multiple delay lines - applied not only to the audio input but also to aspects of tone balance and spatial movement. I hope when you hear it you'll agree the overall effect is quite extraordinary.
Works from John Ashton Thomas (Variations on the Fourth Tune) and Ell Kendall (Bloom) complete my first album for Electric Viola and Multiple and is out now out on the Orchid Classics Label. I'm playing both the Reich and the Riley at the First Light Festival in Lowestoft on the 18th and 19th of June. It should be a lot of fun, most of the festival happens on the beach!