The genre-defying South African cellist will prepare for a debut recording featuring jazz, world and baroque artist collaborations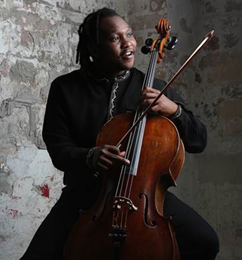 South African cellist-singer-composer Abel Selaocoe has signed to Warner Classics. The Manchester based artist has cultivated a distinctive sound which defies genre labels, interweaving his personal, cultural and musical experiences.
'I am so excited to be joining the Warner Music family. A great home where my love for African and Classical music can live in one space. Many adventures ahead. Makwande!' He hints at the philosophy behind the preparation of his debut recording, 'A music about learning to understand different ways we seek refuge, not always a place of comfort but one of empowerment that allows potential to live a fulfilled life'
The recipient of numerous awards, he was recently awarded the Paul Hamlyn Composition Award and the PRS Foundation Power Up Award - a new, long-term initiative supporting Black music creators and industry professionals and executives, as well as addressing anti-Black racism and racial disparities in the music sector.
The signing comes ahead of Selaocoe's BBC Proms debut on 15 August with the BBC National Orchestra of Wales, conducted by Clark Rundell in a special programme entirely curated by Abel, which celebrates the journey between African and Western Classical music. He will be joined by his trio Chesaba, Simo Lagnawi and Gnawa London and small choral forces.
Vice President of Warner Classics A&R Bertrand Castellani is delighted with the new signing, saying "What is remarkable about Abel Selaocoe's artistry is his ability to unify multiple genres with absolute ease and conviction - whether he is playing a Bach Sarabande, improvising on African songs or creating new sounds on voice and cello. It is an honour to welcome Abel into the Warner Classics family and we're all excited to help share his musicianship worldwide.'
Watch: Cellist Abel Selaocoe performs 'Nagula'
Watch: Abel Selaocoe peforms Lamentatio
Read: Abel Selaocoe's 6 tips for performing in an empty concert hall