BA Heathrow check-in staff said that violins are no longer accepted as cabin luggage under any circumstances, claims Tamsin Waley-Cohen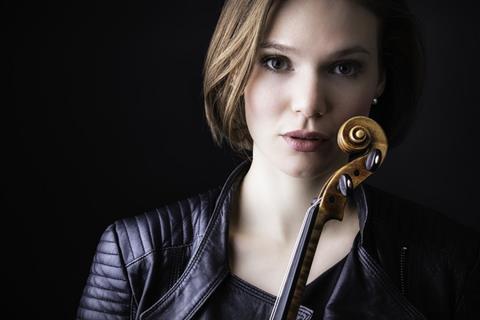 Violinist Tamsin Waley-Cohen has told The Strad that she was turned away from the British Airways check-in desk at London's Heathrow airport on Sunday evening because her violin would not be accepted in the cabin due a rule change.
Violinists have been known to encounter problems at the boarding gate if the overhead luggage bins are full, but in this case Waley-Cohen didn't make it past check-in where she said staff told her that BA had changed its rules and violins were no longer permitted in the cabin 'under any circumstances'.
'I just went to check in and was told they have a new policy not to allow violins in the cabin,' said Waley-Cohen, who plays the Stradivari previously owned by Hungarian-Canadian violinist and teacher Lorand Fenyves.
'They said it could be checked in, I explained why it could not as it's a Strad etc, and they said that I couldn't board the flight.
'I spoke to the manager at Terminal 3 who said the same.'
Waley-Cohen, who was travelling to Prague for a recording session the next morning, was only able to find an alternative flight with Wizz Air from Luton airport, some 40 miles away. She told The Strad the experience had been 'a bit stressful' and 'a huge waste of time and money'.
'That's a lot of flights I will be taking with other airlines after being a long time BA customer.'
British Airways has recently tweaked its rules for musical instruments on board, making it clear that not only cellos but also guitars will only be accepted in the cabin if there is a second seat booked – this has already attracted the ire of guitarists such as Mircea Gogoncea who had previously trusted BA in particular to be a little flexible when it came to accepting their instruments on board.
However, the airline's new published rules do not also ban violins, and in fact make the specific provision that 'subject to the space available … We will make every effort to accommodate your violin or viola in its hard case in the cabin, even if the case is slightly larger than our maximum baggage size, as we know temperature and pressure can damage these instruments in the hold.'
However, the same page also inclules the general rule that 'If your musical instrument in its case is larger than 56 x 45 x 25cm (22 x 18 x 10in) … It will be checked into the hold as part of your checked baggage allowance.'
It should be noted that airlines will not generally offer the option of a second seat for a violin because the case is considered too small to secure safely, therefore overhead luggage space is the only option for those travelling with valuable instruments.
British Airways has confirmed that the rules as published on the website are correct including the stipulation on violins, and that the specific case is being investigated. A spokesperson told The Strad: 'We understand how precious musical instruments are to musicians, and that's why we allow customers travelling with violins or violas to take their instruments on board with them.
'We are in contact with our customer to apologise and investigate what happened in this case.'
This story was updated at 15.40 on 13 November to include a statement from British Airways
Read: Tamsin Waley-Cohen's 7 tips for making a successful recording
Read: British Airways breaks violin
Read: Violinist forced to carry unprotected instrument on lap on British Airways flight