Airline staff forced the musician to check the instrument into the hold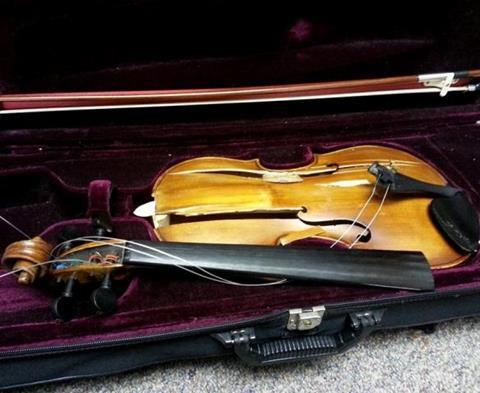 Sara Avery, a violinist based in Colorado, has published pictures on Facebook of an instrument, which was badly damaged during a British Airways flight. The musician alleges that BA staff in Beirut forced her friend to check the violin into the baggage hold. When the instrument arrived in Denver, it was in pieces. Initially airline staff were unhelpful, according to Avery, but later did call to start the claims process.
Read her full post below:
'#BritishAirways breaks violins! We had hoped they would do the right thing, but after British Airways agents in Beirut forced my friend to check her violin (to Denver, routed through Paris) and crushed it in the baggage hold, they are being completely unresponsive, saying it was her fault, and refusing to reimburse her, after telling her to get an appraisal for replacement value. Many people carried on bigger bags. There is no excuse for this, British Airways! You have destroyed the means by which she makes her living!
'UPDATE: A representative from #BritishAirways did call my friend yesterday to get the claims process rolling. (A representative at the Denver airport the night of her arrival did start that process, but the representatives she talked to the next couple of days made it sound like they wouldn't do anything for her.) So, it's moving in the right direction. I'll keep updating this post as things develop. Thanks for all the shares! Even if they do the right thing, this airline must change its policy to let small instruments on board!'

Subscribe to The Strad or download our digital edition as part of a 30-day free trial. To purchase single issues click here