The chamber orchestra will commence as 92Y's new Ensemble-In-Residence from the 2021/22 season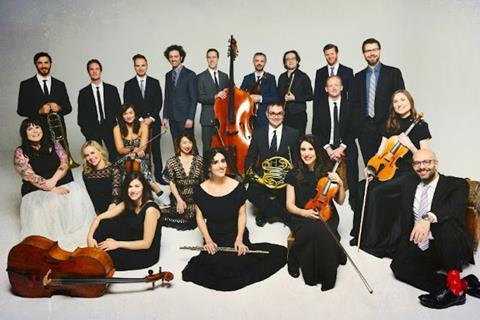 New York City's cultural and community centre 92Y, has announced that the chamber orchestra The Knights will be its Ensemble-in-Residence, starting with the 2021/22 season. It will be 92Y's first large ensemble-in-residence since the Y Chamber Symphony under Gerard Schwarz, from 1977 to 1986.
The new relationship was unveiled during Monday night's '92Y Together' online event, which featured The Knights performing a new arrangement of the Shaker song Simple Gifts alongside music by Bernstein.
The three-year collaboration will encompass concert performances, family events, outreach and education initiatives, and the development of new projects.
Flexible in size and repertory, The Knights will perform in diverse contexts, from intimate chamber recitals to full-scale orchestral concerts.
Seth Pinsky, CEO of the 92nd Street, said: 'We are delighted to launch this exciting relationship with The Knights, welcoming this world-class ensemble as the 92nd Street Y's official Ensemble-in-Residence. Our collaboration will start during the 2021/22 Season, expanding our robust commitment to classical music performance and education. For more than 146 years, we have celebrated foundational works and presented new creations. Classical music legends Andrés Segovia, Lang Lang, Joshua Bell, Emanuel Ax, Benjamin Grosvenor, Yo-Yo Ma and Angela Hewitt have all called our stage home. Now, despite the uncertainty looming over the cultural landscape, we feel it is more important than ever to imagine a more vibrant future and to continue to invest in the performing arts generally, and classical music specifically, at the 92nd Street Y.'
Read: Eight Austrian orchestras call for concerts to resume
Read: NYC's Kaufman Music Center to host online Day of Action
Hanna Arie-Gaifman, Director of the 92nd Steet Y's Tisch Center for the Arts, said: 'I am thrilled to announce this new collaboration with The Knights. Over the past few months, the 92nd Street Y has been on the cutting edge of concert presenting, reaching audiences in new ways during these strange times. Once we can return to our Kaufmann Concert Hall, we will continue to innovate through this long-term, holistic relationship, which encompasses not only a wide variety of programs for our audiences, but also significant educational opportunities for students of all ages. The artistic excellence and wide-ranging vision of The Knights has impressed me greatly over the years, and I am overjoyed that we can formalize a relationship that will allow us to explore the many facets of our mutual interests together.'