Edna Unseld took first prize at the finals held on 10 July 2021 in San Vito al Tagliamento, Italy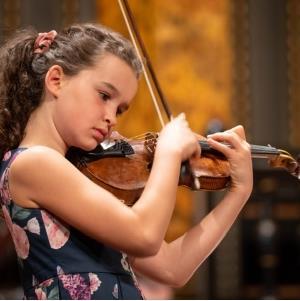 Open to violinists of any nationality between the ages of 9 and 13, the 2022 edition of the Il Piccolo Violino Magico Competition was held from 5 July to 10 July.
11-year-old Swiss violinist Edna Unseld took first prize of €5,000, a violin made by Fabio Piagentini, plus important concert engagements. Accompanied by the Accademia d'Archi Arrigoni under the baton of Giancarlo Guarino, she performed Mozart Violin Concerto No. 3 in G Major, Gorizia Fantasy by Aleksey Igudesman and Perpetuum Mobile op. 34 no. 5 by Ries.
Unseld comes from a musical family: both her parents are violinists and her older sister Romy is a pianist. In 2021, she won third prize at the International Leonid Kogan Competition (Brussels), followed by victory the Swiss National Competition with distinction in April 2022. Unseld studies at the Musikschule Konservatorium Zürich (MKZ) in the class of Jens Lohmann. She plays on an Italian violin by Camillo Camilli, on loan from a private collection.
Second prize was awarded three ways to Mark Chia (Singapore), Sofia Demetriades (UK) and Juan José Peña Aguirre (Switzerland/Columbia). Third prize was awarded to Elisabeth Kira Koch (Germany).
The jury was chaired by Pavel Vernikov and comprised Aleksey Igudesman, Min Lee, Ruta Lipinaityte, Jacobs Soelberg, Elisa Citterio, Svetlana Makarova and Eduard Wulfson.