A wayward shoulder rest nearly ruins the violinist's first appearance with a world-class orchestra, aged just 14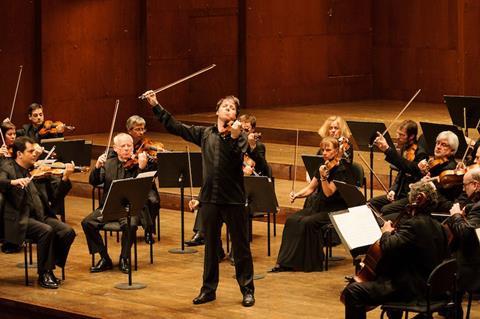 The following article is published as part of a larger 'Life Lessons' interview with Joshua Bell in The Strad's August 2017 issue, out now – download on desktop computeror through The Strad App.
My debut aged 14, performing the Mozart G major Concerto K216 with the Philadelphia Orchestra under Riccardo Muti, was the first time I had played with an orchestra of that stature. Although it was in 1982 I can still remember the chills I felt when they began the tutti. I had only played with smaller orchestras before, so I was blown away by the 'Philadelphia' sound.
Back then my shoulder rest was a sponge held in place with an elastic band. Towards the end of the first movement I felt it begin to slip, but I knew there were a few bars' rest coming up in which I would just about have a chance to reattach it before the start of the cadenza. As I was frantically trying to stretch the band around the instrument I let go accidentally and it flew off, hitting the principal violist in the head. I was horrified but the musicians (including the violist) smiled and, after I had finished the cadenza, passed it along one by one until the concertmaster, Norman Carol, handed it back to me.
In a way the whole thing made me feel more relaxed, because I had been more worried about the orchestra's opinion than about what the audience thought! After that, I felt like the orchestra was on my side. Carol had heard that, like him, I collected coins so, after the concert, he gave me a special coin from his collection which I kept in my case for years afterwards.
To read the full interview with Joshua Bell, download The Strad's August 2017 issue on desktop computeror through The Strad App.
Photo: Joshua Bell with the Academy of St Martin in the Fields
©Ian Douglas