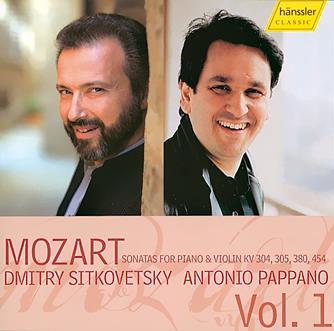 The Strad Issue: January 2007
Musicians: Dmitry Sitkovetsky (violin) Antonio Pappano (piano)
Composer: Mozart
As this disc is labelled 'Vol.1', I hope the recording team will reconsider its engineering policy before the next volume – especially since there is nothing wrong with the venue, Potton Hall in Suffolk, a proven place for chamber music.
I very much like the piano playing of Antonio Pappano, best known as music director of Covent Garden and the Santa Cecilia Orchestra in Rome. He and Dmitry Sitkovetsky met through a festival in Italy and have since given a number of concerts.
My problem is the aggression that I hear emanating from the violin at the very outset, in the A major Sonata K305. Having heard Sitkovetsky only recently in concert, I know he has quite an astringent sound, but it seems to be made much more edgy by the recording.
I suspect that I would have reservations about his bullish approach in any case, but it is difficult to know how much I am being put off by purely mechanical factors. At times when he is playing at only moderate volume, he produces some agreeable, if metallic, colours.
Without invoking the name of Sitkovetsky's revered father, I can think of various Mozart sonata recordings by Russians that give me more pleasure: Kogan and Ginzburg in K376; Oistrakh senior and Yampolsky in K454; Oistrakh junior and his wife in several of their complete set.
These works can take a bit of muscle – think of Perlman and Barenboim – but beauty of tone is a sine qua non.
TULLY POTTER