When violinist David Garrett bought a Guarneri 'del Gesù', he fulfilled a lifelong dream, but the auction experience left much to be desired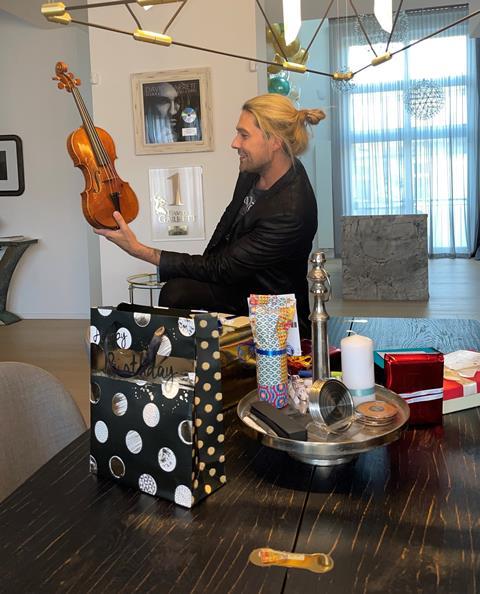 Discover more lutherie articles here
It has been a dream of mine since childhood to be able to own and play on a Guarneri 'del Gesù'.
It's the ultimate privilege and honour for a violinist to make music on such a rare violin.
Almost all the great violinists, and all my personal heroes, performed on Guarneri 'del Gesù' instruments, from Paganini to Heifetz, Kreisler and Zukerman.
As many of you already know, compared to Antonio Stradivari, there are far fewer instruments by Guarneri. While there are more than 1,200 Stradivaris still in circulation, there are fewer than 200 'del Gesù' violins.
Prices have always been high, but over the last 20 years they have positively exploded.
While you could buy a fine Guarneri 'del Gesù' for €1,500,000 – €2,500,000 in the early 2000s, prices have since skyrocketed, starting at €12,000,000, if you are lucky, and that isn't even for a top Guarneri. The best ones sell from €18,000,000 to 'the sky's the limit'!
Trust me here. I have researched the market deeply, travelled around the world to all the famous violin dealers in New York, London, Tokyo and other cities. Anything that was available, I made a point to see, and even though I saw a few great instruments, the price tags were unfortunately even greater.
It's true I have been very fortunate in my life, so much so that I was able to buy a great Stradivari many years ago from 1716, the Golden Period. Additionally, I invested in an early Guarneri 'del Gesù' from around 1726.
But nevertheless, it is not quite the same as a 'del Gesù' in the period starting in the early 1730s to the wonderful powerful great late ones from the 1740s. And if I, a lucky individual with resources, am unable to afford one, then who could?
But then, about six months ago, I heard from Peter Biddulph that a Guarneri 'del Gesù' was going to auction. It's been over 20 years since that has happened. And yes, it is true that at auction you do not pay retail prices. So of course, I was interested and wanted to know where and when.
It was going to be offered not at Sotheby's, Christie's, Tarisio, Brompton, Skinner or Vichy, but at another auction house in Paris, which I found a bit strange.
But then I thought 'why not?'
I'd heard about this particular Guarneri 'del Gesù' before: the c.1736 'Régis Pasquier'. It was offered to me in Paris maybe a year before.
I didn't get to see it then, so now I thought it would be a fun adventure to do some sightseeing in Paris with my girlfriend and mother.
Just a few days later we all flew to Paris.
At the auction house, there was no bow with the violin, or shoulder rest, and as I didn't have my violin case with me, I was offered a cello bow to try it out. Not a great start! However, though I'd also hurt my left little finger a few days earlier, I was still able to play on the 'del Gesù'. I was very happy with the sound projection and timbre.
I was already aware that there was hardly any original varnish left. But let's be honest – what was the alternative? Reasonably speaking, receiving a Guarneri on a long-term loan is as likely as winning the lottery.
The estimate still made my heart beat faster. €4,000,000 to €4,500,000.
Is that a commitment I felt comfortable with? It was a huge decision.
A few weeks passed, and I was swamped with work. But all I could think about was that crisp 'del Gesù' sound, so on the day of the auction I decided to do something a bit crazy and just trust my gut instinct.
Without telling my friends or parents, I decided to bid on the phone. As the reception at the hotel room I was in at the time was terrible, I ran outside into the backyard, behind the parking lot, next to the huge hotel garbage cans, where it was quietest. What a place to bid on a Guarneri 'del Gesù'!
In my mind I knew that there was no way I could go wrong paying up to €3,000,000 for this violin. My good friend and violin dealer Andreas Post confirmed that with me that morning, so I spontaneously decided to put in some bids. My last bid was €2,650,000.
My heart was racing, even though I knew this would not be a losing investment. Still, it's a lot of money and I told the guy on the phone from the auction house that this bid would be my last.
Surely I was out of the race. Let somebody else have it, who does not sweat as much as I was doing right now, I thought. But a few seconds later, the voice on the phone said:
'Congratulations, you just bought yourself a "del Gesù'''.
Let me tell you, sitting next to a garbage can in an alley behind a hotel has never felt more glamorous!
All I could think about was that crisp 'del Gesù' sound, so on the day of the auction I decided to do something a bit crazy and just trust my gut instinct
Well, I called my parents right after, and to my surprise, they didn't criticise me for spending that much money without consulting them first. On the other hand, my father was quite shocked that I ended up paying so little. Over the next few days many of my dear friends from the violin-dealer world called me to tell me exactly the same.
'That's a steal. Good for you!'
OK, I would not call it a 'steal', exactly, if you are paying €3,400,000 – the total amount including the buyer's premium… but still. I doubt that there will ever be another 'del Gesù' sold for that price.
As I was touring during that period, I kindly asked the auction house if there might be a chance to deliver the violin to Berlin. After all, receiving more than €600,000 in commission, it should surely have been within their budget!
But no, that was not an option. So I had to find my next free day, which was five weeks away. No problem, though, I could wait. After arranging a pick-up date, I was asked to wire 10% of the amount, which I did the next day. Apparently this is normal, I was told. Fine by me.
Fast forward five weeks, and it was time. This trip will stay in my memory for the rest of my life.
I arrived the night before the pick-up. A quick dinner and off to bed! Exciting day ahead and an early start!
At 8am I jumped out of bed, got ready and ordered an Uber to the auction house.
Upon arrival, I was taken to the room to inspect the Guarneri. I played a bit on it, and all looked and sounded fine.
But course, in addition to the instrument itself, I wanted to check out all the certificates listed in the catalogue. There were certificates from Charles Beare, Florent Boyer, Andreas Post and Peter Biddulph with it, plus a Peter Ratcliff dendro report. Really: what more could you ask for?
Unfortunately, the Andreas Post and Peter Biddulph certificates were presented to me only as photocopies.
'Where are the originals?' I asked.
'This is the original,' the lady replied, pointing to the photocopy.
I have been at violin auctions all my life, bought and sold instruments. My dad even owns an auction house in Germany and he told me: If you do not have the original certificate, you must document that in the catalogue.
I couldn't believe it!
What added to my upset was a phone call with a violin expert, who worked in the instrument department at the auction house.
He kept repeating that it is normal not to write in a catalogue that the original certificates no longer exist!
And on top of that he argued that his certificate was much more valuable than 'the old papers' by Biddulph and Post.
Here I had to laugh – well, almost!
So, I ended up having to call Peter Biddulph as well as Andreas Post to quote me a price to reissue the documents.
For my final few hours in Paris, I was told very clearly by the auction house that it was not their responsibility to pay for the certificates to be reissued.
And, when I finally picked up the violin I had to sign a document stating that they would not assist me financially in getting the documents replaced, and legally releasing them from any further responsibility.
If I hadn't been playing a show the next day in Vienna I would definitely not have signed it.
This was supposed to be a day to remember in a good way! But throughout the course of it, I was never offered so much as a glass of water, or a coffee… nothing. Not even a seat. Every time the person left the office I had to sit on the stairs outside, like a thief. As if I'd steal or do harm to such a beautiful instrument!
I had the distinct feeling that I was not welcome at all. It was such a shame. Even being in beautiful Paris couldn't make up for the way they made me feel.
In the end though, I am extremely happy to have bought a 'del Gesù' for an amazingly good price, and I feel honoured to continue in the line of musicians playing this instrument and making its amazing voice sing to millions of people.
But I would hope to avoid this selling process in future!