Cellist steps in at two weeks' notice to take on Brian Elias cello concerto from indisposed Natalie Clein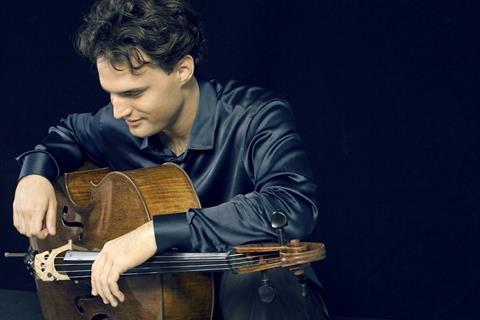 Leonard Elschenbroich is stepping in at short notice to perform the premiere of Brian Elias' cello concerto at the BBC Proms on 9 August. Natalie Clein, for whom the concerto was written, has had to withdraw from the concert for health reasons.
'I was asked two weeks before the concert and sent the score to look over before deciding,' Elschenbroich told The Strad.
'I felt that it would be an honour to give the first performance of a new cello concerto by such a distinguished composer and the piece immediately spoke to me.'
The concerto, at c.25mins, will be performed in the first half of Prom 32 (9 August) at the Royal Albert Hall in London, with the BBC National Orchestra of Wales conducted by Ryan Wigglesworth. The all-British concert programme also includes Elgar's Enigma Variations and works by Britten and Purcell.
In a statement released by the Proms, Clein said: 'Brian Elias' piece has been in my heart, mind and fingers for almost two years and I am devastated to have to withdraw from this wonderful Prom. But the piece will speak and sing beyond its dedicatee and I will truly be in the hall in spirit with Leonard, Brian, Ryan and the BBC National Orchestra of Wales, and all who hear its first (but not last!) outing!'
For Elschenbroich, 'the biggest challenge, besides learning the very difficult part and orchestral score, is now trying to find enough distance to make a relatable performance.
'I try to get as much time away from the piece between practice and study phases each day and record myself playing it in order to hear it in a way closer to the way an audience would hear it. I've had a week now by myself and over the next week will rehearse it with piano and then with the orchestra.
'There are almost no extended techniques used in the piece and there is usually a tonal area or harmony which makes it all the more transparent. Half of it is quite fast and much of it in a very high register. The dramatic narrative is very clear and intuitive. The rhythmic complexity is more visual than aural, always denoting either dance or song. Let's see what the first rehearsal brings!'
Early this year, Clein spoke to The Strad about the concerto saying: 'The music fluctuates between deep lyricism, quicksilver scherzo-like playing, and big handfuls of chords.
'It demands a lot of stamina and physical strength.'
Photo: ©Felix Broede