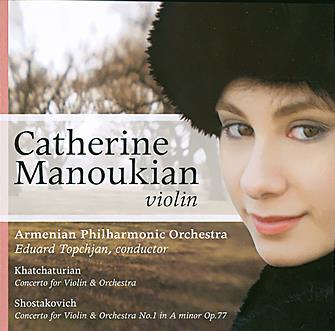 THE STRAD RECOMMENDS
The Strad Issue: January 2007
Musicians: Catherine Manoukian (violin) Armenian Philharmonic Orchestra, Eduard Topehjan (conductor)
Composer: Khachaturian, Shostakovich
This uplifting performance of Khachaturian's Violin Concerto, one of the undoubted masterpieces of the 20th-century repertoire, comes from musicians associated with the composer's homeland.
The Armenian orchestra's playing is stylish and rhythmically finessed, with some especially beguiling woodwind. Eduard Topehjan keeps his forces admirably controlled, allowing space for the violin soloist to shine. There are vibrant and vital passages for the orchestral strings, especially after the soloist's cadenza – launched by an exquisite dialogue with the clarinet – and in the Andante sostenuto, where middle strings play plaintively above pizzicato cellos and double basses.
Canadian-born Catherine Manoukian is an eloquent exponent of this appetising work. Her tone is pure, with nicely understated vibrato, and her playing throughout is gorgeously expressive. The gentle lilt of Khachaturian's high-flying melodic lines, not least in the berceuse-like Andante, comes across almost effortlessly, as if the violin were floating on an oriental carpet of air, swayed here and there by gentle breezes, until the spirited finale calls forth a more vigorous tone. All in all, a scintillatingly good performance, splendidly captured.
The Shostakovich begins in sombre vein, with well-marshalled, atmospheric orchestral strings. The first movement, shrouded in mystery, is brilliantly sustained. The solo line comes over admirably, not least when engaging in sad dialogue with dark lower woodwind. A gutsy Scherzo follows, before the intense, varied Passacaglia, to which Manoukian's involvement and restraint lend added power. The prolonged cadenza is superbly executed and the jaunty closing Burlesque is brilliantly played. All in all, an exciting, beautifully recorded disc.
Roderic Dunnett