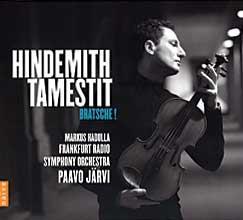 The Strad Issue: January 2014
Description: An enjoyable collection of Hindemith's major works for viola
Musicians: Antoine Tamestit (viola) Markus Hadulla (piano) Frankfurt Radio Symphony Orchestra/Paavo Järvi
Composer: Hindemith
Compared with several complete surveys of Hindemith's viola music already available, Antoine Tamestit's latest CD presents a conspectus of the most famous pieces the composer wrote for his own use as a concert soloist. He takes the neo-Romantic effusions of op.11 no.4 at face value, be it the Debussyan sounds of the opening Fantasie, the folk-like simplicity of the main subject or the quickly changing atmosphere of the following variations (he and Markus Hadulla are particularly convincing in the one uniquely marked 'with bizarre awkwardness').
Hindemith had a flair for unusual markings, including the infamous 'beauty of tone is of secondary importance' in the unaccompanied op.25 no.1. Here Tamestit surely manages a speed record, as well as achieving a nice momentum in the 'very fresh and taut' movement. The two slow movements, however, constitute the sonata's expressive centre, and Tamestit sings out soulfully, coaxing a rainbow of nuances from his 1672 'Mahler' Stradivari.
Der Schwanendreher and Trauermusik are of course related, Hindemith having famously written the latter in a few hours, after George V's death prohibited a performance of the former. With a life like recording and credible balance that places the soloist in the middle of the orchestra, Tamestit and Paavo Järvi bring out the witty orchestration and clever counterpoint in which Hindemith has clad Der Schwanendreher's folksy material in a high-octane reading, after which Trauermusik comes as a heartfelt, soothing encore.


Carlos María Solare