Total of £42,500 shared between eleven recipients judged to be on the cusp of international solo careers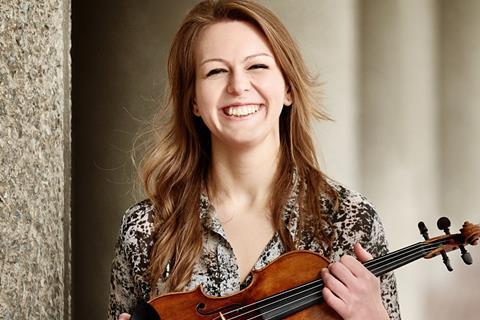 The London-based Hattori Foundation, which offers awards to young musicians judged by audition, has announced its Senior Award winners for 2017.
The awards are given to instrumentalists and ensembles aged 21 to 27 who show promise of an international career and are intended to assist in achieving that goal, with each musician being asked to specify what the award will enable to do – this could include attending masterclasses, travel expenses to enter competitions, or simply towards living costs during study.
This year's the eleven recipients shared a prize pot of £42,500, and include violinists Yume Fujise, Maria Kouznetsova, Alexandra Lomeiko (pictured), violist Alexander MacFarlane, and cellist Jamal Aliyev.
'The Hattori Foundation Trustees were pleased to have again received a very strong number of Senior Award applications representing some of the cream of the next generation of instrumental soloists,' said awards chair Erich Gruenberg. 'We are thrilled to be supporting these exceptionally talented artists during 2017/18 at such key stages of their professional development.'
Previous award winners include Thomas Gould, the Belcea Quartet, Leonard Elschenbroich and Matthew Trusler.
Photo: Alexandra Lomeiko, ©Kaupo Kikkasnews