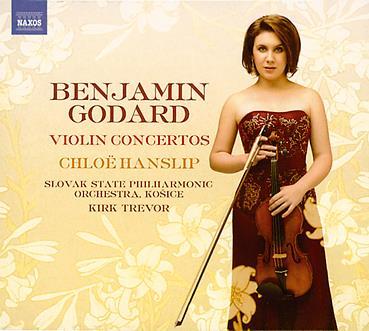 The Strad Issue: January 2008
Musicians: Chloë Hanslip (violin) Slovak State Philharmonic Orchestra, Košice, Kirk Trevor (conductor)
Composer: Godard
This disc proves what Naxos does pre-eminently well: introducing unfamiliar repertoire by less well-known composers on both sides of the Atlantic, often revealing neglected treasures.
Benjamin Godard's Second Violin Concerto is a Romantic work of immense warmth, whose gloriously full-blooded opening, especially when as excitingly and commandingly played as here by the resplendent, youthful virtuoso Chloë Hanslip, would thrill concert audiences anywhere.
It's to Hanslip's credit that – like Nigel Kennedy with Emil Mlynarski – she is unafraid to risk the unfamiliar. She makes a triumphant success of this concerto, not least because her playing is as forceful and muscular as it is assured, and one hears in every entry how well thought-through is her approach and her grasp of the work's subtle musical nuance.
The opening Allegro offers ten minutes of unrelenting rapture, enriched by a multi-stopped cadenza. The Adagio, which also showcases the Slovak orchestra's sensitive playing and stylish individual solo lines, could perhaps be more graceful and tender, but admirably avoids the saccharine. Godard's box-of-tricks finale, like a cheeky Offenbach aria, suits perfectly Hanslip's stylishness and wit.
Godard's much earlier Concerto romantique is a drier, somewhat neo-Classical piece that confirms his love of Schumann. Hanslip characterises its four contrasting moods – not least a glowing, even tragic, Adagio and delicate Canzonetta – splendidly. The Scènes poétiques are slight, although charmingly orchestrated. The Naxos sound in the two concertos feels slightly more lucid than in the third piece.
The French Godard (1849–95), a productive composer despite his early death, also wrote four violin sonatas, which we may hope also to hear some day on the Naxos label.
Roderic Dunnett